We all have memories of the sleepovers we had as kids – as they were likely some of the best sleepovers we ever had! Who could forget building pillow forts, playing games until late in the night, and having a blast with friends? Well move aside pillow forts, because it's time to introduce the ultimate canopy slumber party. Gather your friends and family together for the perfect large fort sleepover and create lasting memories that will never be forgotten! The idea of a canopy slumber party is simple – you gather a bunch of blankets, sheets and pillows and build a canopy around a large open space or even a room. You can decorate the canopy with a variety of lights, toys, and even hang a projector if you have one. Your family and friends can all sit together under the canopy and enjoy a movie or board games while eating snacks late into the night! To make your canopy slumber party even more fun, you can bring a karaoke machine, play music, and create a dance floor right underneath the canopy. When the lights go low, you can bring in cushions and pillows and make it a cozy place for everyone to relax and just enjoy the company of those around them. This is the perfect large fort sleepover for all ages; the possibilities are endless when it comes to creating the ultimate canopy slumber party. So gather your friends and family together, and get ready for the best sleepover you've ever thrown!
I. Introduction
There's nothing quite like a canopy slumber party to bring friends and family together! Whether you're throwing a sleepover for your kids or having an adult-only get-together, this is the perfect way to gather everyone in one large fort. With just a few supplies, you'll be able to create the ultimate canopy slumber party experience! However you can also call Slumberr The Sleepy Teepee Party and let us create your perfect canopy sleepover party! From cozy beds to decorative lights, there are so many ways to customize your canopy slumber party to match the personality of each person attendingSo gather your friends and get ready for the ultimate canopy slumber party!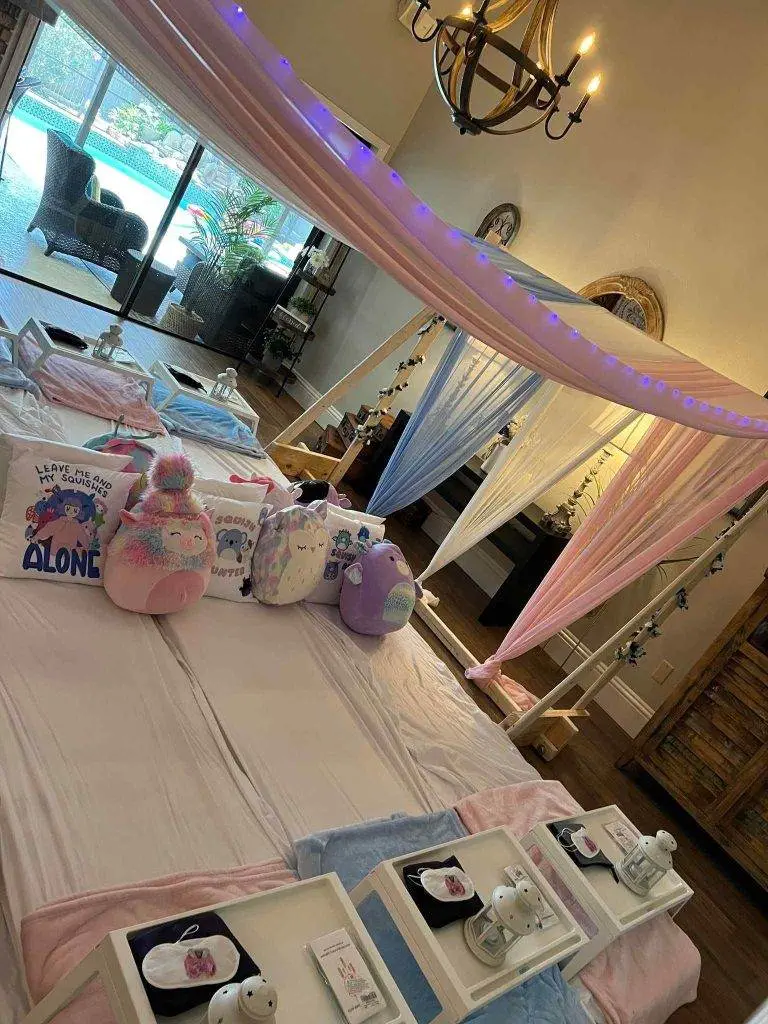 II. Gather the Necessary Supplies
There are a few must-have supplies for the perfect canopy slumber party. A spacious canopy fort is the primary item that you'll need for the evening. You'll also need to have plenty of blankets, comforters, pillows, and other cushions from around the house to complete the sleepover setup. If you want to make the fort truly spectacular, you can incorporate string lights, fun patterned fabrics, balloons, and other decorations. Additionally, you'll need snacks, drinks and games to keep everyone entertained while they're lounging in the canopy fort. To make the environment cozy, a few scented candles, dimmed lights, and relaxing music can put everyone in the right mood and make it an unforgettable night.
III. Set Up the Canopy Space
A canopy slumber party is an exciting and creative way to get your friends together for a fun sleepover. Setting up the canopy space gives you the perfect opportunity to make your party extra special with plenty of special touches. Here are some easy tips to get your canopy slumber party started:
1. Start by setting up the canopy. This can be done with a large pop-up tent, bedsheets or blankets. You can hang them from the ceiling or put them up like a traditional tent. You can also add extra fabric swags and decorations to make the area look more inviting and cozy.
2. Get creative with furniture and lighting. Bring some colorful pillows and bean bag chairs to make the space comfy. String lights or lanterns around the edges of the canopy to add a magical feeling.
3. Consider adding a special touch with fairy lights, stuffed animals, and garlands. You can also make it extra festive with some colorful garland or banners.
4. Set up a snack station for dessert time. Have a variety of popcorn, chips and other treats for everyone to munch on during the party.
These are just a few ideas to get your canopy slumber party started. With a little creativity and imagination, you can easily create a space that's perfect for a night of fun and relaxation. Who knows, maybe your canopy slumber party could become the talk of the town!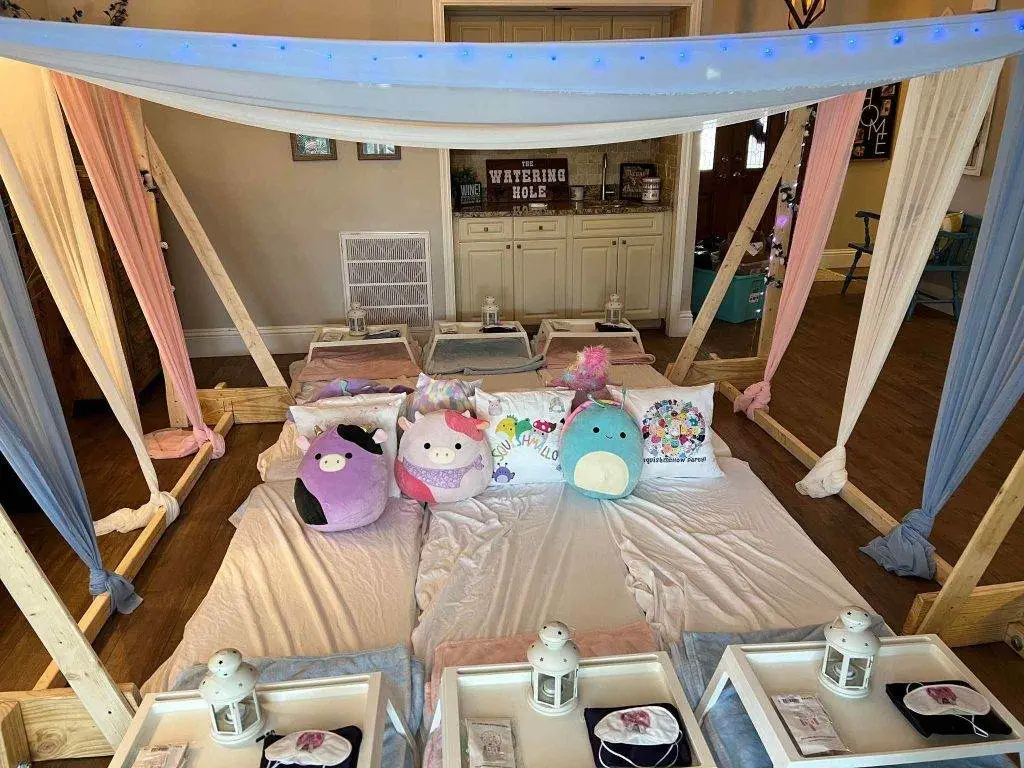 IV. Add Finishing Touches to the Slumber Party Decor
Nothing makes a canopy slumber party extra special like the perfect decorations. Bright colors, fun patterns, and inviting touches will ensure your guests have a night to remember. Get creative by making unique canopy decorations that will set the tone for a relaxing evening and make the most of the space in your large fort.
A great way to add flair is to use garlands. String up colorful paper lanterns or fabric garland in any colors you like, and dangle star shaped lights above your guests' heads. Mix and match different sized lanterns and hang them at varying heights for a whimsical atmosphere. In the center of the fort, place a pile of oversized pillows in a variety of fun colors and textures. This will give your guests a cozy spot to relax and share stories.
Create magical moments by using natural elements to decorate your canopy slumber party. Hang strands of twinkle lights along the perimeter of the walls and connect them with a tent of sheer fabric. You can also incorporate branches or floral elements to give the look some depth. Plant one or two small potted plants inside the fort to bring some green elements into the mix and adding a sweet scent to the space.
To give the slumber party a personalized touch, create custom signs to hang inside the fort. Cute phrases and jokes are sure to put a smile on everyone's faces and make the evening even more special.
By adding the right finishing touches, you can transform a plain fort into a magical canopy slumber party. With the perfect decor, your guests are sure to have a night they'll never forget.
V. Fun Activities for the Sleepover
Slumber parties are always a fun way to experience a night of fun with friends. It's especially advantageous when the sleeping quarters are in a large fort, like a canopy. To make the sleepover extra enjoyable, it's important to plan out some exciting and creative activities that will liven up the evening. There are a variety of activities that can be done in a canopy slumber party to keep three or more people entertained.
One great activity is a game of limbo. All you need is an inexpensive plastic limbo pole that can easily be found at any local store. This game is always a hit! Or you can always go for some classic board games, like Monopoly or Scrabble. Board games are always fun, especially when competing against friends.
You can also set up a cozy movie night using a projector or laptop and some comfy blankets. You can display movies directly from your device or stream them on websites like Netflix or Hulu. Popcorn, snacks, and drinks are a must for any movie night! And, to make it extra special, bring some movie theatre candy like Sour Patch Kids and Raisinettes.
If it's a nice night outside, you could always start a bonfire and make some s'mores. Playing flashlight tag in the backyard can also be a blast. Get creative and modify the traditional tag game into something new and unique!
The possibilities are endless when it comes to a canopy slumber party! With a little bit of planning, you can make the ultimate sleepover party. Just remember to bring all the necessary supplies, like sleeping bags and pillows, to maximize the experience. With the right activities and food selection, you can throw the ultimate canopy slumber party and create memories that will last a lifetime.
VI. Keep the Kids Entertained All Night
Keeping kids entertained throughout the night of your canopy slumber party can be a daunting task, but with careful planning and strategizing, your sleepover can be a fun and engaging event for all! Start off by engaging the kids in some classic indoor and outdoor games. Popular choices include charades, board games, video games, Jenga, and scavenger hunts. You can also turn some of your backyard toys into games such as turning an inflatable pool into a ball pit or attaching a bungee cord to a tree and seeing who can jump the highest.
If you want to switch up activities, you can always have the kids decorate their own fort by providing them with markers, ribbons, or other craft supplies. You can also break up into teams and have a tie-dying activity or play a game of hide-and-seek. For those interested in creative pursuits, you can set up a movie night with a big screen and surround sound system. Showing a classic movie that's sure to please is an excellent way to keep kids entertained.
Another way to make sure kids stay entertained is to provide them with interesting snacks. Believe it or not, kids like to snack just as much as any adult. Make the canopy slumber party extra special by bringing out snacks that are fun, sweet, and savory. You can even make the snacks part of the game by having the kids make their own pizzas, tacos, or s'mores. They'll love having the opportunity to get creative with their food and come up with their own recipes.
Finally, if you have enough space, you can always set up a makeshift dance floor and have a dance party in the backyard. Playing tunes that will get the kids moving and make them feel free to express themselves is one of the most enjoyable activities of a canopy slumber party. Make sure to keep the volume at a reasonable level and end the night with some slow songs so that everyone can kick back and relax.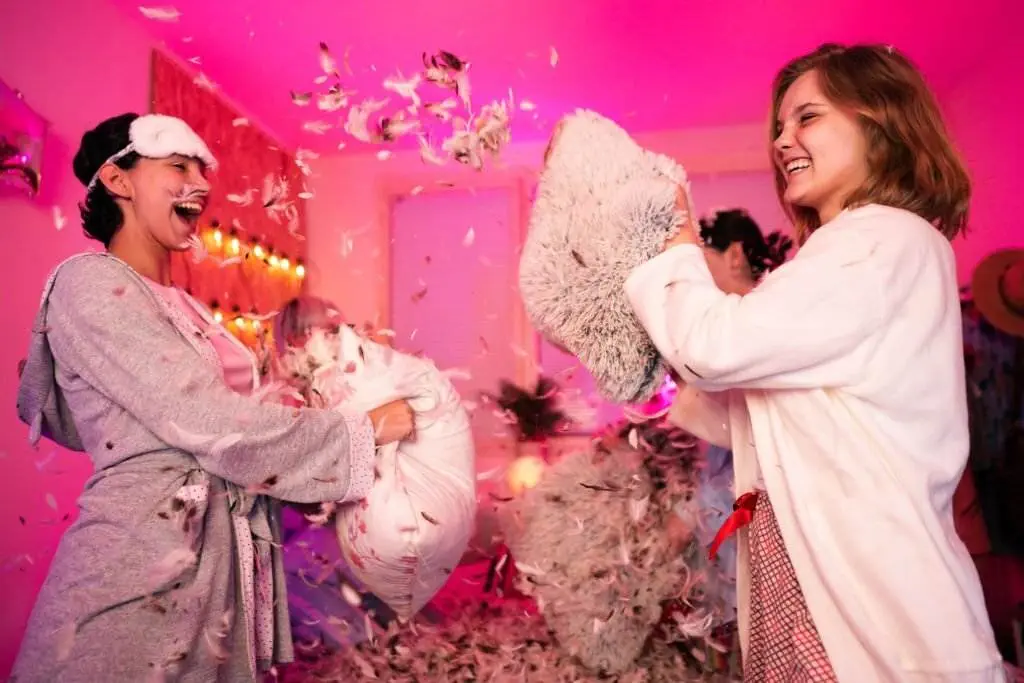 VII. The Best Canopy Slumber Party Snacks
What's a sleepover without snacks? A canopy slumber party is the perfect opportunity to go all out with snacks and add a fun twist on traditional party favorites. Whether your guests are five years old or fifteen, everyone loves to munch on something delicious while camped out in their own little hideaway of a canopy fort. Here are some great snack ideas for the perfect canopy slumber party.
Fruit and Veggie Kabobs – Kids will love the idea of eating their fruits and veggies on a stick. Simply cut up and assemble pieces of fruit and vegetables into fun designs. Place them in small containers with pretzel sticks and watch as your little ones enjoy their edible creations.
Popcorn and Pretzels – Whether you make it on the stove or in the microwave, popcorn is always a hit with children of all ages. Throw in some crushed pretzels for a sweet and salty combination that your guests won't be able to resist.
Mini Hot Dogs and Hamburgers – When it comes to party snacks, nothing beats mini hot dogs and hamburgers. You can set up a mini grill or even use a toaster oven to quickly and easily make these beloved treats. Serve with ketchup, mustard, and other condiments, and your little ones will be in snack heaven!
Cupcakes and Brownies – No canopy slumber party would be complete without delicious desserts. Bake cupcakes and brownies ahead of time, and allow your guests to decorate them with icing, sprinkles, and other fun toppings.
No matter what snacks you choose for your canopy slumber party, be sure to provide plenty of fun and creative options that are sure to satisfy your little ones. A canopy slumber party is all about having a good time, and snacks are the best way to do just that!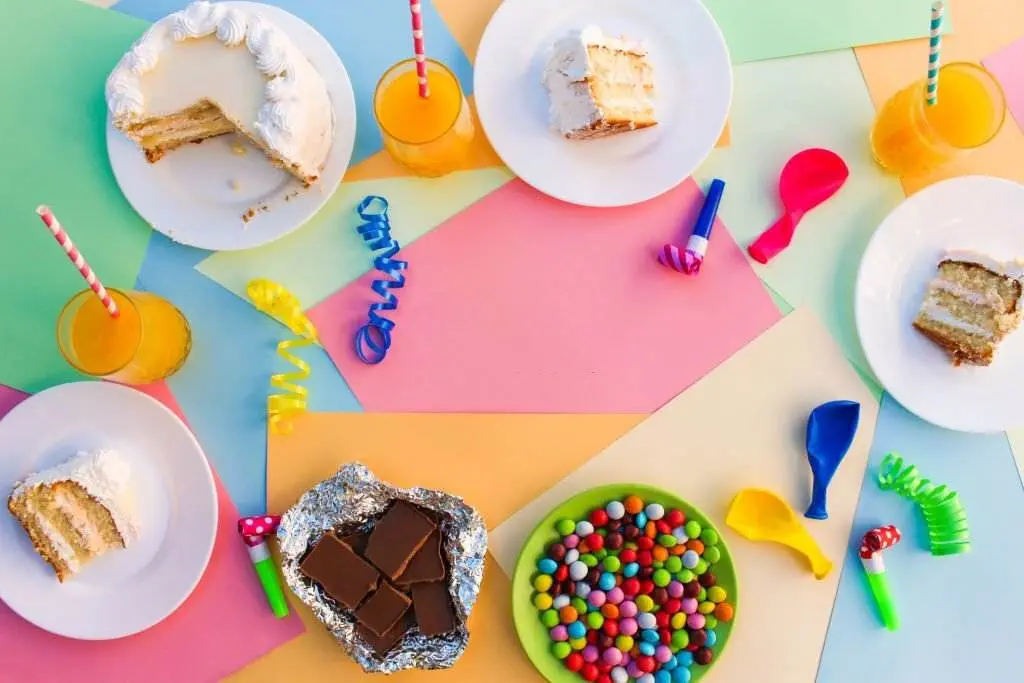 VIII. After the Party Cleanup Tips
After the Party Cleanup Tips
Creating the perfect canopy slumber party is only half the battle; you also need to ensure that it is cleaned up properly. Here are some tips for making the cleanup process as stress-free as possible:
1. Start by quickly gathering all the bedding and pillows. This will keep them from getting mixed up with trash or debris.
2. Don't forget to sweep the floor. You may want to use a vacuum or broom, depending on the type of surface and mess.
3. Rinse off any food spills and items that came into contact with food. Doing this will prevent any stains from forming and make clean up much easier.
4. Disinfect countertops and any other areas where food was touched. A kitchen cleaner or all-purpose spray is great for this.
5. Put anything that was used during the party away, such as party supplies, decorations and games.
6. Lastly, take down the canopy and fold it up. Make sure to store it away in a safe place so it can be used again in the future.
A little bit of extra effort during the cleaning process will ensure your canopy slumber party looks as good after the party as it did before. Following these tips can help make cleaning up a breeze so you can focus more on having fun and making memories!
IX. Conclusion
Throwing the perfect canopy slumber party can seem daunting at first, but with the right ideas and tips it can be a huge success. If you dont wanna do it your self you can always hire a company like Slumberr. When planning, start with a theme, decorate your space, and create a menu of fun snack ideas. As the party progresses, introduce some fun activities like scavenger hunts, movie marathons, or photo booth competitions. Finally, ensure a successful sleepover by setting ground rules, setting up the sleeping area, and stocking up on whatever will make the kids comfortable. With these tips and tricks you can throw an epic canopy slumber party that your guests will never forget!