Introduction
Tired of the same old birthday parties at indoor venues or parks? Step up your celebration game with Outdoor Glamping! With services available in Lakeland, Winter Haven, and cities within a 20-mile radius, we offer an exceptional blend of luxury and adventure to make your birthday unforgettable.
Outdoor Glamping is the perfect way to celebrate your next birthday in Lakeland, Winter Haven, and the surrounding areas. With a unique blend of luxury and adventure, this experience will create unforgettable memories for you and your guests.
Imagine spending your special day surrounded by nature, under the stars, and in the comfort of a beautifully decorated glamping tent. Our services cater to all ages, from children to adults, ensuring that everyone has a fantastic time.
Whether you're looking for a small gathering or a large party, our team will work with you to customize the perfect outdoor glamping experience. We offer various packages that include accommodations, decor, activities, and even catering options. You can choose from themes like an enchanted forest, beach paradise, or stargazing adventure to create the ambiance you desire.
During your outdoor glamping birthday party, you and your guests can enjoy a range of exciting activities. From stargazing and storytelling around a campfire to hiking, bird-watching, or simply relaxing in nature, there's something for everyone. Our knowledgeable staff will be on hand to assist with any requests and ensure that your celebration goes smoothly.
Furthermore, our glamping tents are equipped with all the amenities you need for a comfortable stay. You can expect luxurious bedding, cozy furniture, and even electricity for your convenience. We understand that safety is a top priority, so our tents are designed to withstand various weather conditions and provide a secure environment for your celebration.
Not only does outdoor glamping offer a unique and unforgettable birthday experience, but it also allows you to connect with nature and create lasting memories. Imagine waking up to the sound of birds chirping and the fresh scent of the outdoors on your special day. It's an experience that you and your guests will be talking about for years to come.
So why settle for a typical indoor birthday party when you can have a one-of-a-kind celebration with outdoor glamping? Contact us today to book your next birthday adventure in Lakeland, Winter Haven, or any of the surrounding areas. Let us make your birthday unforgettable with the perfect combination of luxury and adventure.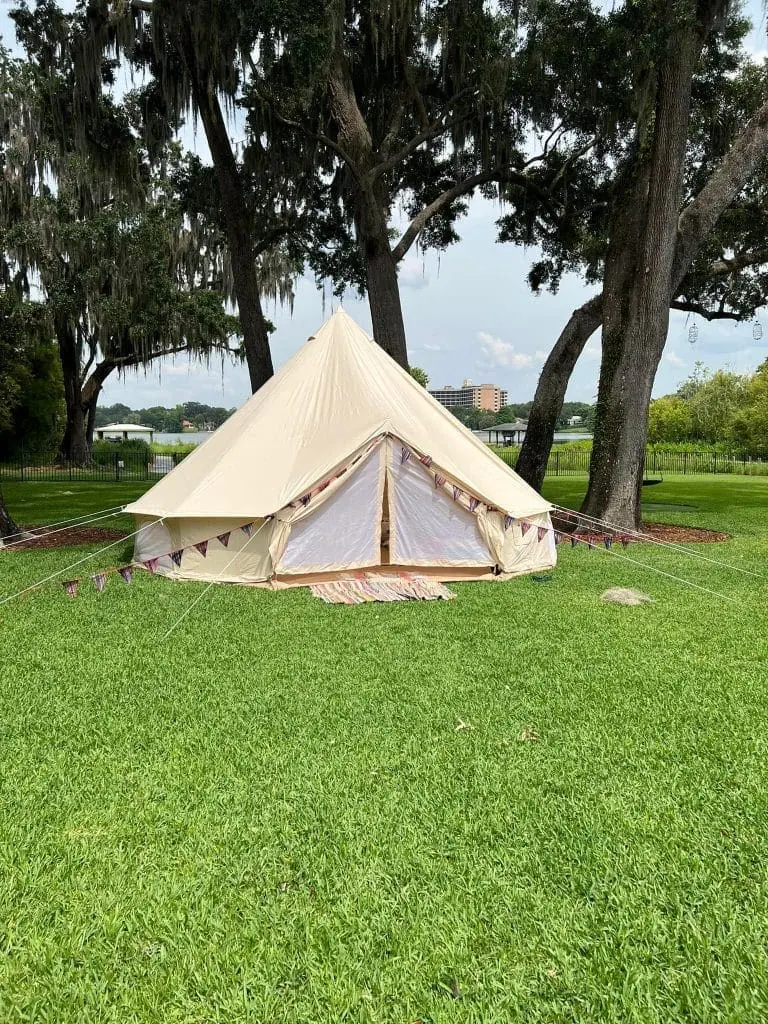 Customize Your Experience
At Outdoor Glamping, your wish is our command! Choose from a range of packages to get a fully furnished and decorated 18ft bell tent. Customize it further with your choice of linens, blankets, pillows, and even furniture to match a specific theme. It's the ideal setting to capture those Instagram-worthy moments. Check out some of our themes.
Versatility at its Best
Whether you have a concrete yard or fake grass, don't worry; we've got you covered! Our versatile setup options ensure that you can enjoy glamping anywhere. And for just an extra $75, we offer tent weights to keep your tent secure without stakes.
Ultimate Parties
Looking for something extra special? Opt for our Ultimate Parties package, combining the best we have to offer, from elaborate setups to a plethora of activities. It's the pinnacle of glamping luxury!
Chill Tents for Adults and Kids
No need to worry about space; our adult and kids/teen Chill Tent can comfortably accommodate up to 20 kids. It's the perfect environment to relax, chill, or engage in crafting activities. With all this space and comfort, the party is guaranteed to be a hit!
Our Special Movie Night Bell Tent
Who doesn't love a good movie night? But imagine enjoying your favorite films in a mosquito-free environment while experiencing the comfort of a luxurious tent. Our Movie Night Bell Tent offers just that. It's the epitome of comfort, making your night special as you cozy up for a film under the stars.
Activities Galore!
Our glamping package doesn't just stop at luxurious tents. You can engage in a myriad of activities like campfire storytelling, stargazing, marshmallow roasting, and hiking. With Outdoor Glamping, your birthday becomes a mini-adventure holiday.
Don't Forget the Essentials
Although we strive to offer a luxurious experience, we're still at the mercy of Florida's ecosystem. Don't forget to pack some bug spray to keep those pesky mosquitoes at bay.
Conclusion
Choose Outdoor Glamping for a birthday experience that's second to none. With custom packages, Movie Night Bell Tents, and specialized Chill Tents, your next birthday party will be the talk of the town. Make lifelong, Instagram-worthy memories with us!
For more information or to book your Outdoor Glamping experience, contact us today!