DIY Teepee Sleepover Near Me
Create a magical sleepover experience with our DIY Teepee Party Kit! Designed to simplify your party planning while maximizing fun, our kit comes with everything you need to transform your space into a dreamy slumber party haven.
Each kit includes our premium-quality, easy-to-assemble teepees that offer both comfort and style. These teepees create an enchanting environment that kids adore and adults appreciate for their aesthetic appeal. Comfortable, plush bedding accompanies each teepee, ensuring your guests enjoy a good night's rest.
Our DIY Teepee Party Kit also comes with easy-to-follow instructions for setup and dismantling, making the process a breeze even for first-time hosts. Plus, we handle all the cleaning afterward, allowing you to focus solely on enjoying the event.
Perfect for birthdays, sleepovers, or just a fun-filled night with friends, our DIY Teepee Party Kit is a unique and memorable way to celebrate. Book your kit today and make your next sleepover party a magical experience!
What's included in each DIY kit?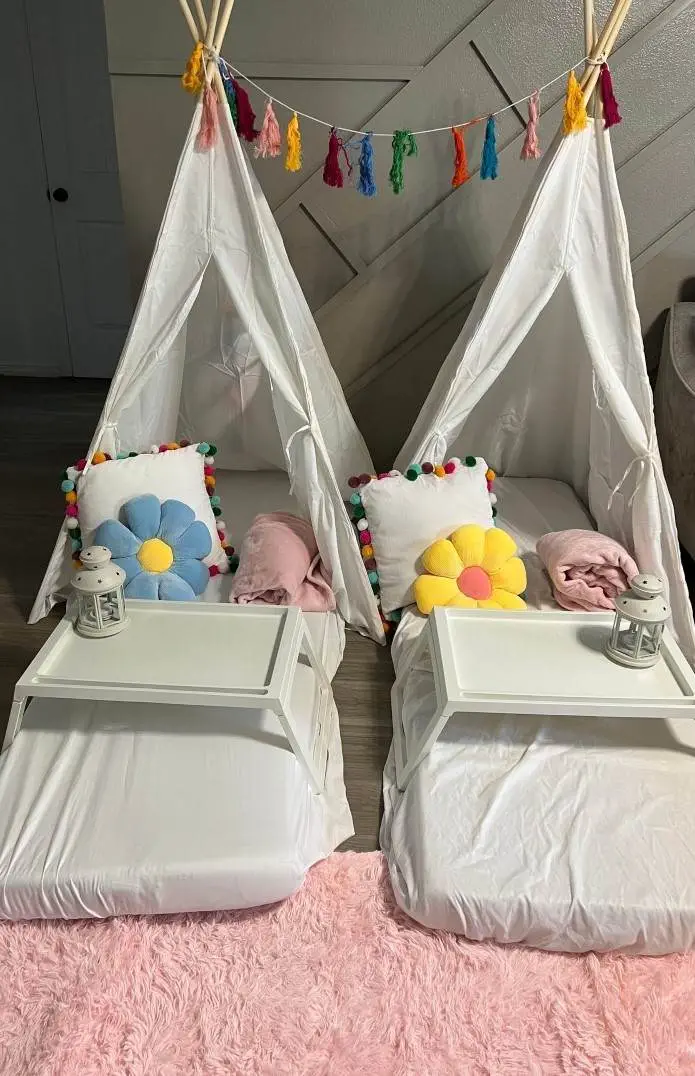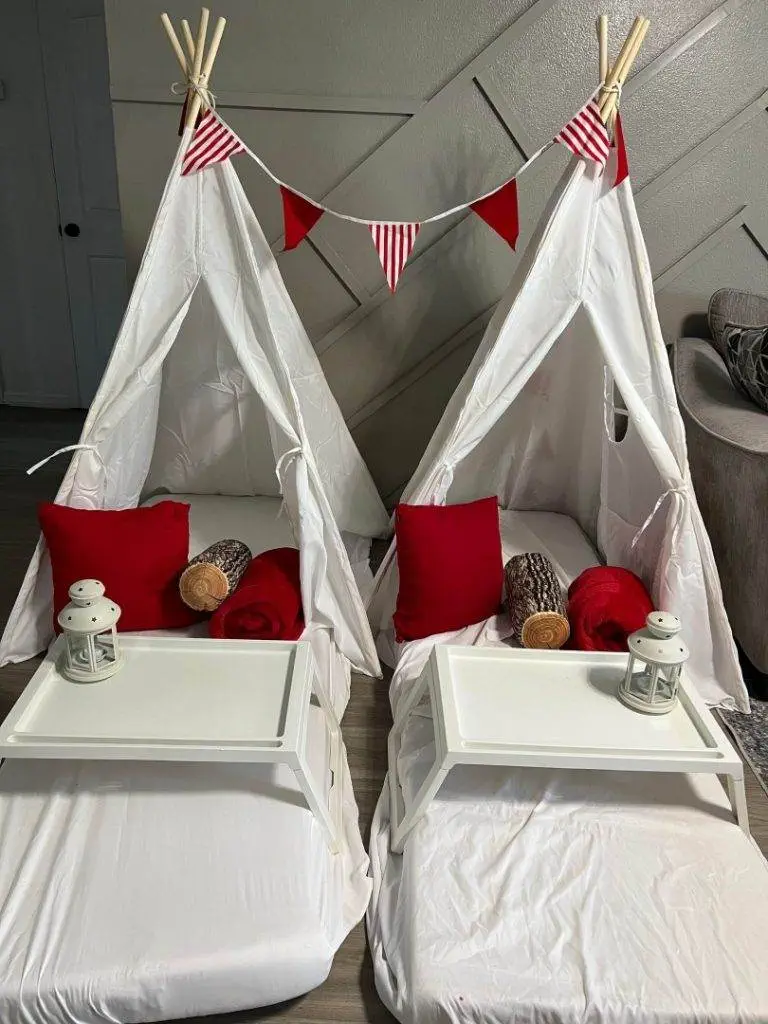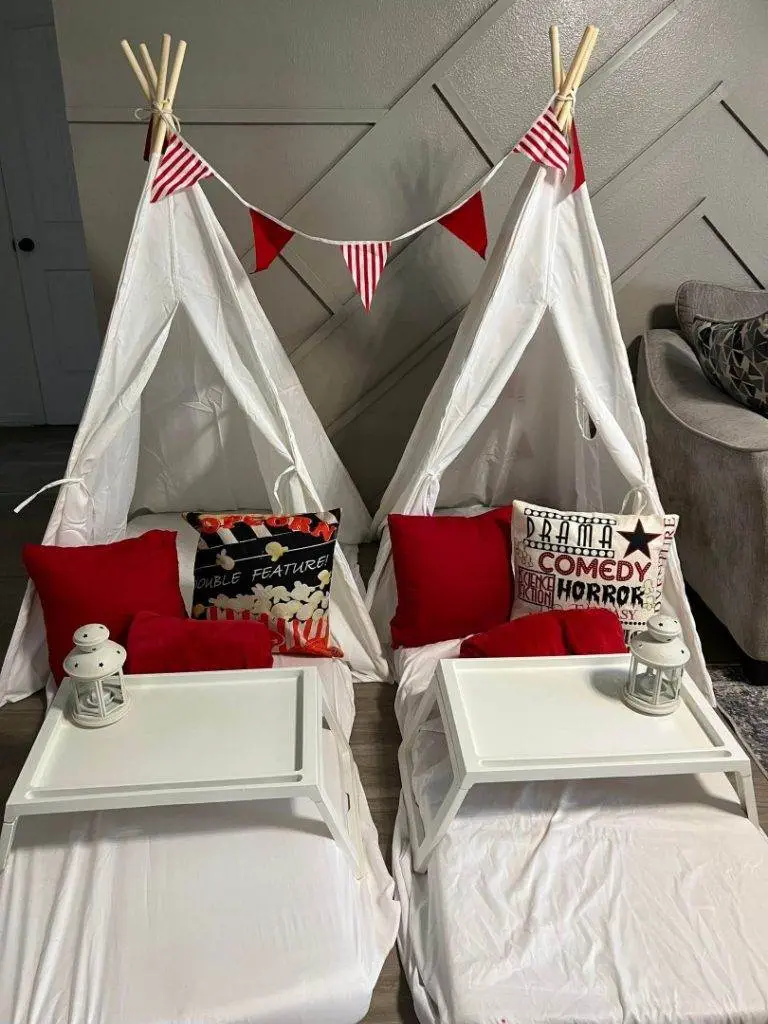 Our DIY Teepee Party Kits offer an exciting, hands-on approach to party planning. This self-service option allows you to personally manage and control the setup and layout of your party, while we provide you with all the necessary tools, accessories, and easy-to-follow instructions.
Each kit comes at a competitive price plus tax, with a refundable security deposit of $150. This deposit serves as a guarantee against any potential damages and is returned to you once we've verified the returned kit to be complete and in good condition.
The DIY Teepee Party Kits are available for pickup in Winter Haven, FL. You can conveniently collect your kit anytime between 9 am and 2 pm on the day of your event. Setup at home is straightforward with our comprehensive, step-by-step instructions provided.
Once your event concludes, we ask that you return the kit by 2 pm on the following day. This allows us to promptly inspect and clean the components, ensuring they're ready for the next renter and enabling us to refund your deposit swiftly.
We understand that sometimes, one day of fun just isn't enough! That's why we offer an additional day's rental at half the regular price.
BFF Party
2 Complete Tent Sets
Friendship Pack
3 Complete Tent Sets
Glam Party
4 Complete Tent Sets
Party of 5
5 DIY Teepee Kits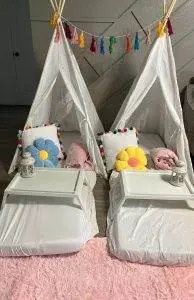 Flower Party
Flower Rainbow theme Add a rug for an extra touch! $10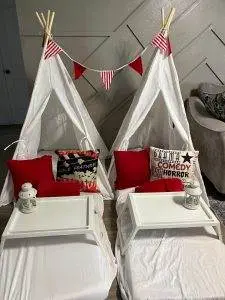 Movie Night
Watch a movie with our Movie theme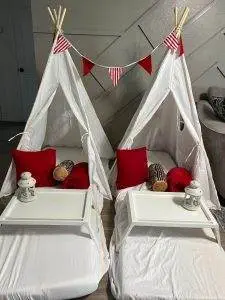 Camp Out
Camp indoors with our Camp out theme
You can also add extra Goodies!
For an even more memorable event, don't forget to explore our range of add-ons! These extra goodies range from additional decor elements to exciting games and goody bags, allowing you to customize your teepee party to another level. Simply check out our Add-On page when booking your DIY kit to see all the fun extras you can include.