Sleepovers are magical times filled with laughter, stories, and bonding. If you're looking to add a touch of enchantment and a whole lot of convenience to your next sleepover, look no further than our DIY Teepee Rental Party Kit!
What's Included in Our DIY Teepee Party Kit?
We've designed our DIY Teepee Party Kit intending to simplify your party planning while maximizing fun. The kit is thoughtfully curated, including everything you need to transform your space into a dreamy slumber party haven.
The heart of our kit is the premium-quality, easy-to-assemble teepees that are the epitome of comfort and style. With these teepees, you can create an enchanting environment that not only delights the children but also wins appreciation from adults for its aesthetic appeal.
Accompanying each teepee is plush, comfortable bedding, ensuring your little guests a restful night's sleep. Each kit also comes with easy-to-follow instructions for setup and dismantling, making the process effortless even for those new to hosting. We take care of all the cleaning afterward, allowing you to focus solely on the enjoyment of the event.
Ideal for birthdays, sleepovers, or just a whimsical night in with friends, our DIY Teepee Party Kit is a unique and memorable way to celebrate.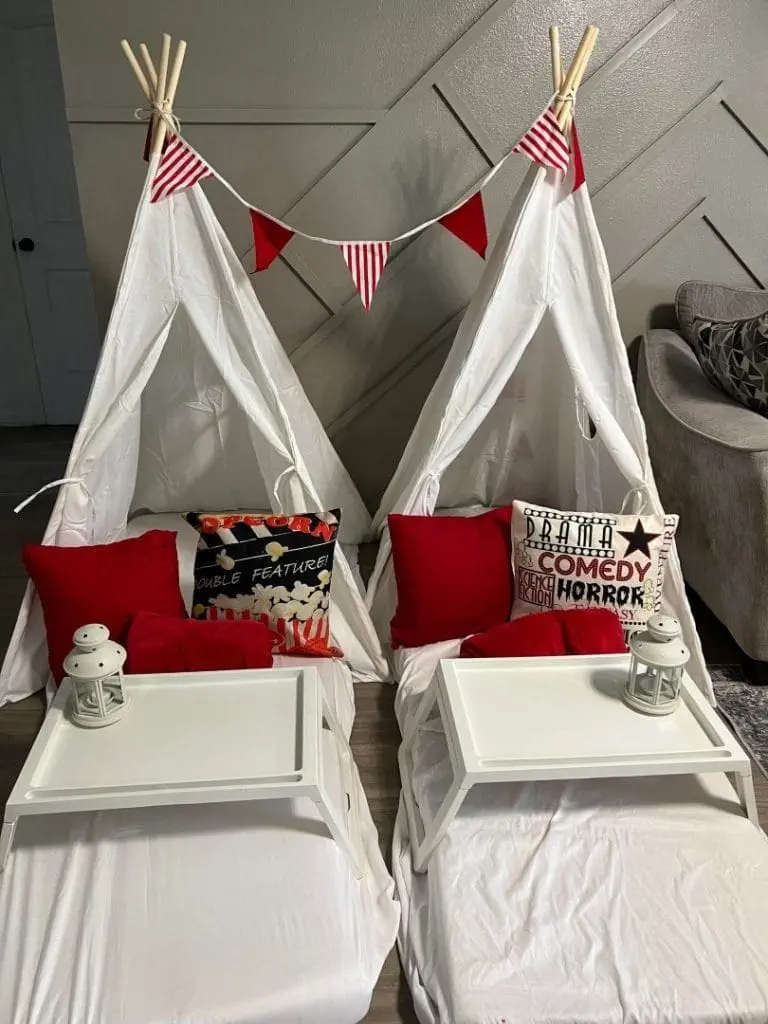 Affordable, Flexible, and Easy
We understand that each party is unique and so should its planning. That's why we offer a competitive price plus tax for each kit, with a refundable security deposit of $150. This deposit is a guarantee against any potential damages and is promptly returned to you once we've verified the kit to be complete and in good condition.
Our DIY Teepee Party Kits offer a unique, hands-on approach to party planning. This self-service option allows you to personally manage and control the setup and layout of your party, while we provide you with all the necessary tools, accessories, and easy-to-follow instructions. Wanna book here's the link, DIY Teepee Sleepover Near Me.
Making Memories
Our DIY Teepee Party Kit is not just about providing a fun and cozy sleeping space, it's about making unforgettable memories. Whether it's children excitedly setting up their teepees, engaging in playful chatter within their personal spaces, or sharing tales under the soft glow of the teepee, the experiences created are priceless.
As they enter their teepees, they enter a world of imagination where ordinary rules don't apply. This can be the perfect setting for telling ghost stories, sharing secrets, or just giggling into the night. These experiences tend to leave a lasting impression, turning your party into an event that's talked about for years to come.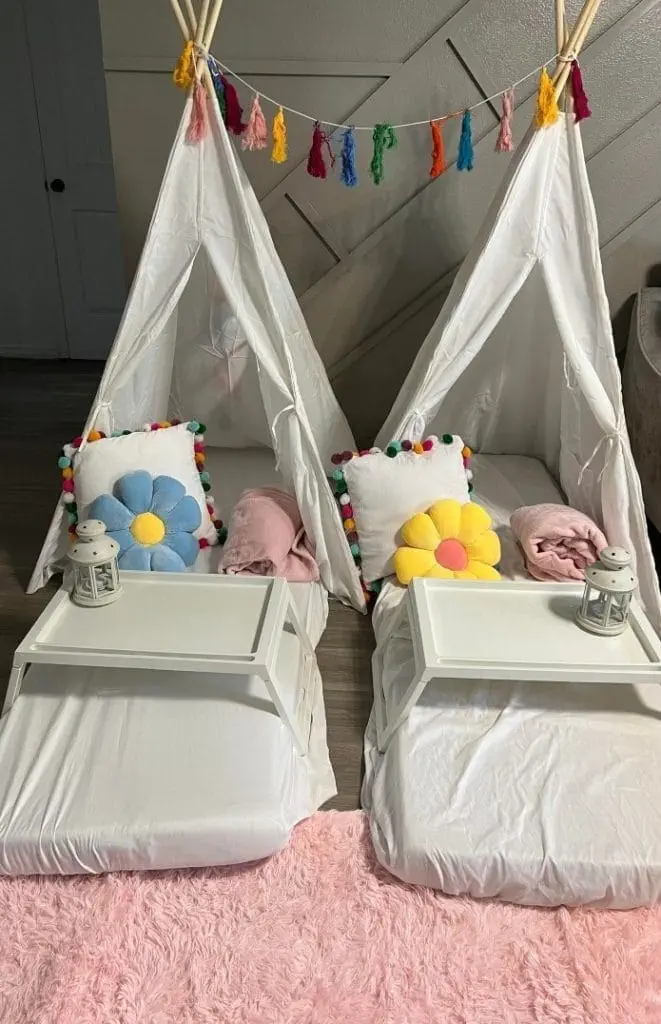 Convenient Pickup and Return
Located in Winter Haven, FL, you can pick up your DIY Teepee Party Kit anytime between 9 am and 2 pm on the day of your event. After the festivities are over, we ask that you return the kit by 2 pm on the following day. This schedule allows us to inspect and clean the components in a timely manner, ensuring they're ready for the next magical party and enabling us to refund your deposit swiftly.
In case one day of fun isn't enough, we offer an additional day's rental at half the regular price.
So, why wait? Book your DIY Teepee Party Kit today, and elevate your next sleepover party to an unforgettable experience!