Welcome to the world of Teepee Tents. You're probably wondering what makes our teepee company different than other companies?! Whether you are looking to rent a teepee for a special event, or for any other occasion, you should know that Slumberr has something special to offer you. Our experience and product knowledge goes far beyond that of other companies, and the quality of our teepees is unparalleled. Not only do we take pride in crafting our teepees to the highest standards, but we also make sure that each one is made with superior materials. So, what makes our teepee company different than other companies?
Unique Experience
Our Teepee Party Business is a unique experience When it comes to throwing the perfect party, Slumberr is here to create a unique experience that you and your guests will never forget. We offer a variety of teepee rentals that are customized to give your partygoers the best experience.
Unlike other companies, Our teepees are handmade and customizable. We also have two different size options with our teepees https://www.slumberrparty.com/booking/experiences/. That way we can cater to kids, tweens, teens and even adults! we strive to provide an unforgettable experience for everyone! We also offer add-ons like fun activities and games to keep everyone entertained throughout the event. With our business, you can rest assured that your guests will have an amazing time filled with memories that will last a lifetime.
Customer Service
We believe that customer service is the backbone of any business, and that is why we strive to provide exceptional customer service. Every single one of our staff members is always willing to help with any of your questions or concerns. We also make it a priority to ensure that each and every customer is completely satisfied with their experience and products. Whether you're planning a Teepee Party for kids, tweens, teens or adults, we are here to help you make it the best it can be. Our dedication to customer satisfaction and quality is what sets us apart from other Teepee Party Business companies. We take great pride in.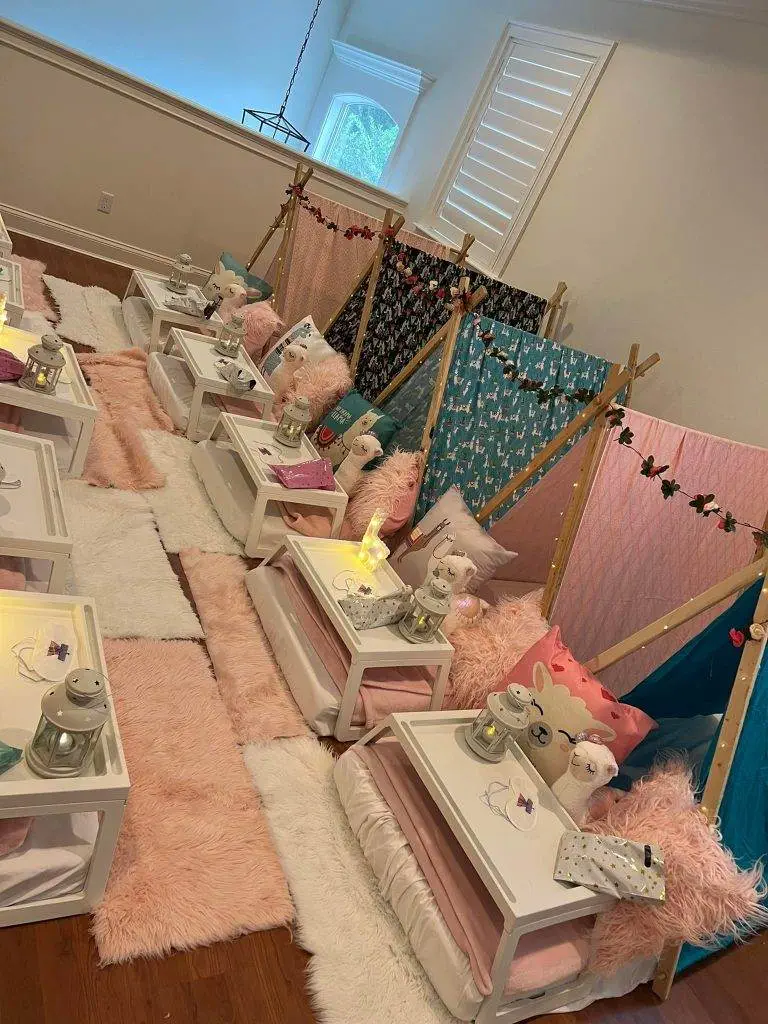 Our Quality Materials
With our Teepee Party Business, you can be sure that you are receiving the highest quality in terms of products and services. We take the time to understand your needs and tailor our services and products to ensure we provide an unforgettable experience for everyone. In addition, to offering many packages to make your event amazing. We also are different than other companies because we are thinking about your comfort. We don't offer air mattresses or thin roll mats like others we take pride in our 4in memory foam mattresses. Our guests love the comfort of the thick plush foam and soft luxurious outer rayon Bamboo fabric with breathable ventilated mesh fabric sides to ensure an extremely comfortable and refreshing sleep.
Packages
At Slumberr we offer party packages where we bundle some of our favorite things to create the ultimate party! https://www.slumberrparty.com/ultimate-party-package/ We want to take the stress away from booking multiple people for your event. We provide a lot of services to meet the needs of your event. Whether you are looking for a glamping bell tent along with a luxury picnic and an outdoor movie or maybe just a teepee rental with some balloons, Slumberr makes an insta-gram worthy party that all your friends will talk about.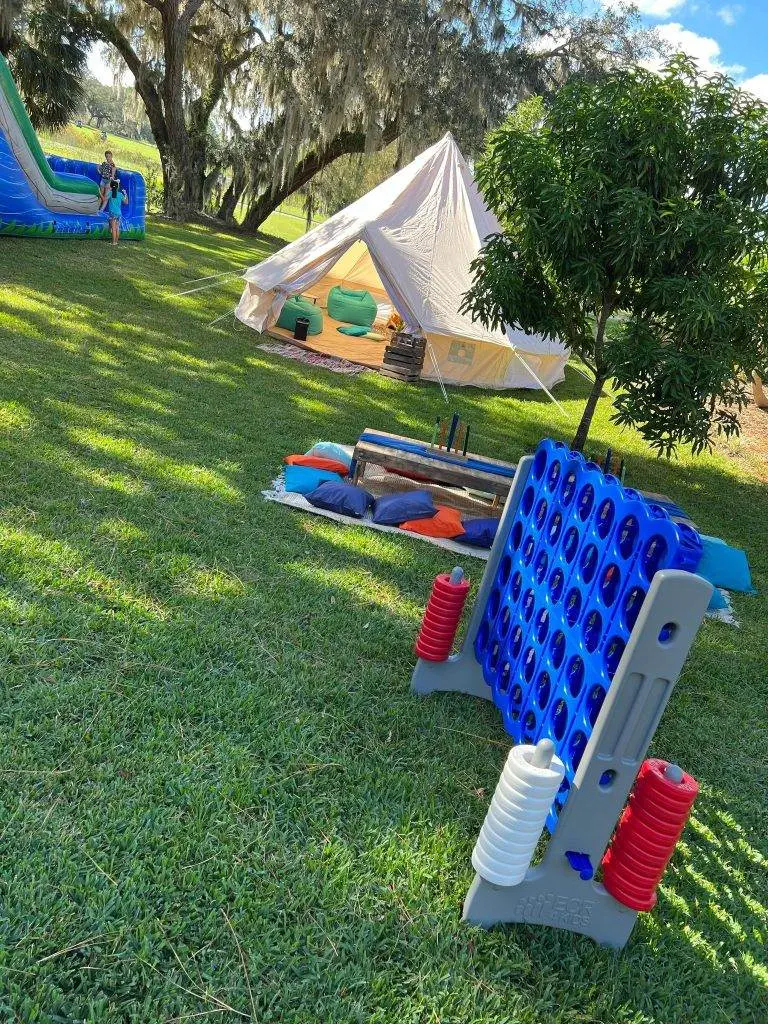 Custom Designs
At Slumberr, customization is one of the features that truly sets us apart from competitors. While other companies offer pre-made themes, we understand that no two events are alike. That's why our team takes extra care and attention to ensure that if you aren't seeing a theme you like. We can create one that is custom-tailored to your unique event.
Our custom designs are the perfect way to bring any vision to life, whether it's for an intimate gathering or a grand celebration. With detailed customization options, our clients can select from an array of colors and patterns to come up with the perfect combination that gives their event that special touch. No matter which option they choose, our teepees not only look great, but they also serve as a fun and stylish backdrop. So if you're looking to make your next event truly one-of-a-kind, then our custom-made teepees are the perfect way to do it.