If you're looking for a fun way to turn up the excitement at your next party, why not consider throwing a foam party? Foam parties are a perfect way to create a wild and unique atmosphere that your guests are sure to love! Not only will they be having a blast, but they'll leave with lifelong memories of your amazing event. So what are you waiting for – unleash the fun and let the foam flow!
What is a Foam Party
Ready to have some wild fun? A foam party is one of the most popular activities for kids these days – so why not join in on the frolic and throw one yourself? But what is a foam party? Let's find out!
A foam party is an event where foam is used as the central element for fun activities. It's like a regular party, but with foam! Usually, foam is sprayed from a machine into a designated area and then sweated away to your heart's content. Kid's foam parties are especially popular for a range of events, from school dances and pool parties to birthday parties and other special occasions.
Slumberr offers a foam add-on to host your own foam party that guests of all ages will enjoy. Foam parties can be a blast for adults and children alike! The foam creates a unique atmosphere of joyful and wacky fun. Kids can really let their imaginations fly as they play in the foam bubbles, dance with cartoon characters, and enjoy an unforgettable experience.
So what are you waiting for? Unleash the fun and get planning that foam party today!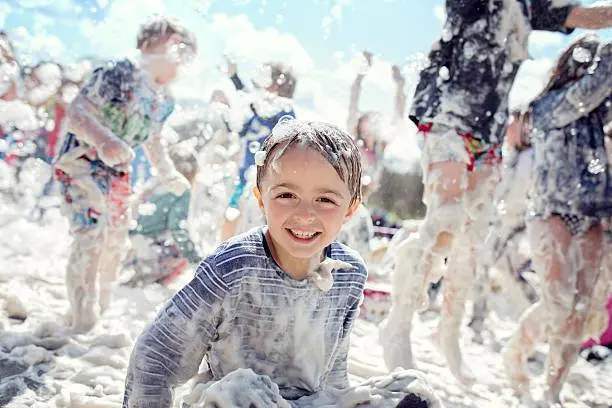 What are the Benefits of Throwing a Foam Party?
Foam Parties for Kids – The Perfect Way to Let Loose and Have Some Fun!
When it comes to throwing a fun and engaging party for kids, why not try something a bit different and opt for a foam party instead? Foam parties offer kids a safe and exciting way to let loose and have some fun. But what are the benefits of throwing a foam party for kids? Read on to find out.
Firstly, foam parties guarantee a great time for everyone involved. With a never-ending supply of sudsy bubbles and laughter, there is no doubt that your children and their friends will leave with a smile on their faces. Not only that, the mixture of water and detergent guarantees that they stay cool, even on the hottest of days.
Secondly, foam parties provide an ideal environment for kids to be creative. The mounds of bubbles provide a magical setting for kids to explore and play with. Whether they choose to dance, play tag or build bubble sculptures, kids are sure to have a blast as they get lost in a world of imagination.
Thirdly, foam parties are incredibly convenient. As all you need is a special bubbling machine, you can easily set up a foam party at home, or in your backyard. You can then sit back, relax and enjoy the mayhem. Not to mention clean up is breezy you can also spray a water hose to break down the foam if you don't wanna wait for it to make it down itself!
So, if you're looking for a unique way to make your next event a memorable occasion for your children, look no further than a foam party. With its combination of fun, creativity, and convenience, it's the perfect way to let loose and have some fun!
What Creative Ideas Can I Use for a Foam Party?
Get Creative with a Foam Party: Ideas to Bring the Fun to Kids
Are you stuck for ideas for your kid's next party? If you want something a bit different, why not shake things up with a foam party? Foam parties are a great way for kids to have an out-of-the-ordinary experience, letting them unleash their inner wild side with plenty of bubbles and laughs. But what creative ideas can you use to bring the fun of a foam party to life?
Foam parties can be as simple or elaborate as you like. You can start by preparing your space – set up a pool or inflatable slide that can be filled with foam to create bubble fun and games. Setting up a few tents and umbrellas in the garden will create a fun outdoor environment for your party, perfect for kids to explore the bubbles and unleash their sense of adventure. Music is an essential part of any party, so a good playlist and some upbeat tunes will add to the atmosphere and amp up the energy.
Next comes the most important part: the decorations! Foam parties can be customized to reflect any theme. For example, if your child loves superheroes you could create custom-made masks and accessories, while younger kids might enjoy creating their own foam party hats out of colorful poster board and craft materials. You can also set up a photo backdrop, with props such as beach balls and streamers, to capture all the fun and exciting moments and create lasting memories of your foam party.
Creating a foam party is a great way to express your child's personality and let their imagination soar. With a bit of creativity and some clever decorations, you can throw an unforgettable foam
How to Create the Perfect Foam Party Space?
Unleashing Epic Foam Fun for Kids!
When space and time run out, the only solution is to throw a foam party! This type of party is perfect for kids, as it creates a safe, family-friendly, and exciting atmosphere. But, how do you create the perfect foam party space? With our tips and tricks, you'll be able to host an unforgettable foam event!
To begin, you will want to choose an open area, preferably outdoors, that can easily be transformed into an epic abode of foam fun. It is important to make sure all your guests can easily move around in the area without running into one another.
Next, you'll want to set up the foam machine. For optimal coverage, make sure it is placed in the center of the space. Additionally, a generator or power source should be located nearby to avoid losing power during the event.
Once your party space is ready and the foam machine is properly installed, it's time to consider the safety of your guests. To ensure everyone has a good time and remains safe, provide life jackets and pool noodles for the smaller children. You may also want to designate an adult supervisor to monitor any slippery surfaces, as well as help keep an eye on the younger ones. Goggles are great to have as well so the smaller kids don't get the bubbles in their eyes. We found kids of all ages love to use goggles and swim in the foam, haha. Pool Noodles also are fun to play with in the foam pit.
Finally, add some music and decorations to complete the perfect foam party space. For example, you can hang colorful streamers or balloons to complement the colors of the foam. This will also help create a festive and fun atmosphere for everyone to enjoy!
By following these simple tips, you can easily create the perfect foam party space! So, unleash the fun and get your foam machine ready! Your guests will thank you for it.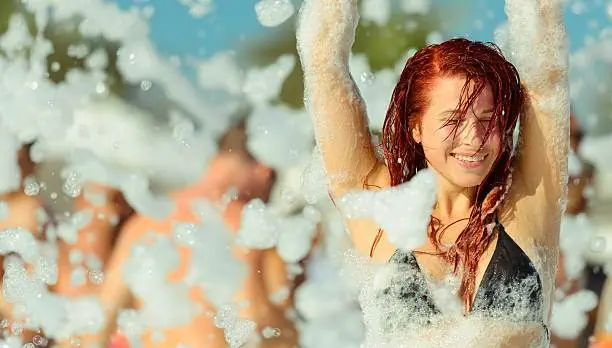 What Supplies are Needed for a Foam Party?
Unleash the Fun: What Supplies are Needed for a Kid's Foam Party?
For the ultimate kid's party, throw a lively foam party! With just a few supplies and a little bit of elbow grease, you can transform an ordinary day into an extraordinary celebration.
First, you'll need a foam machine to create the bubbles that are essential for a foam party. That's key! Or just hire Slumberr and we can turn your party stress-free and foam ready!
Next, you'll need a large area free of furniture, where the foam can accumulate. Cover the entire area with tarps to ensure that the mess is contained and easy to clean up. While you're at it, don't forget to put a tarp over any lighting fixtures in the room.
Finally, you'll need a few necessities for the kids, such as towels and maybe even goggles or swim caps if things get a bit wild.
Unleashing the fun of a foam party is as easy as gathering a few supplies and turning on the foam machine. So, what are you waiting for? Bring the bubbles and get ready for a nonstop party!