If you are looking for a unique and exotic way to celebrate your upcoming birthday, a tropical slumber party could be the perfect fit. You can choose us at Slumberr to help you with this or DIY it yourself! We created one with a luxury picnic, a greenery backdrop, and of course, teepee sets. It wouldn't be tropical if it didn't include zebra rugs, Tropical stuffed animals (leopard, flamingo, and snake). This theme is sure to bring an exciting and unforgettable experience to you and your guests. Creating the perfect tropical slumber birthday party can be a daunting task, but it doesn't have to be! From choosing a party date to accessorizing the space with leopard stuffed animals and zebra rugs, there are countless possibilities that will make your event special and unique. Whether you're throwing the shindig for yourself or for someone else, these tips and tricks will help you plan the perfect tropical slumber birthday party!
Choosing the Theme
Choosing a theme for a birthday party is one of the most exciting parts of the planning process. A tropical birthday party is always a fun and unique way to celebrate a special day. Whether it is for a child or an adult, there are many different approaches to creating an unforgettable, tropical-themed party.

Start by choosing a color scheme for a tropical-themed party. For a child's party, bright colors such as greens, pink, blues, and yellows are perfect, while for a more mature party, muted colors such as oranges, browns, and greens work best. Once you have decided on the colors, you can begin to plan the decorations.

When it comes to decorations, think of items that remind you of the tropics. For instance, pineapple signs, colorful beach umbrellas, and palm leaves can be used throughout the party. If you want a more traditional look, you can choose traditional luau decorations such as tiki torches, hula skirts, and leis. For a beach-themed party, beach balls, flip-flops, and shells are great additions.

There are many creative ways to incorporate a tropical theme into the food selection. Think of foods that are typically found in the tropics. For instance, fruits such as pineapples, mangoes, and coconuts are great options. You can also serve traditional dishes such as Caribbean jerk chicken, conch fritters, and tropical fish. Of course, no party is complete without tasty desserts. Pineapple upside-down cake, coconut cream pie, and mango ice cream are all great options.

When it comes to activities, you can really get creative. If it is a child's birthday, think of activities that are fun and exciting. For example, you can create a tropical photo booth with a backdrop of palm trees and beach umbrellas. You can also organize a tropical scavenger hunt or a limbo contest, set up a kiddie pool for water games, or even create a sandcastle-building contest.

For a more mature party, you can still incorporate a tropical theme into the activities. Think of activities such as a tropical cocktails class, a tropical dance class, or a tropical cooking class. You can also organize a tropical-themed movie night or karaoke where guests can sing their favorite tropical songs.

Choosing the right theme for a birthday party is the key to
Creating the Invitations
Creating invitations for your tropical birthday party is a great way to start the planning process. They are the first impression your guests will have about the event, and it is important to make sure they are as creative and unique as possible. It is also important to ensure that they are organized and properly sent out.
When it comes to creating the invitations, you will want to consider the overall theme of the party. Is it a luau-themed affair? Or perhaps you're going for a beach-inspired theme? This will help you find the perfect design that both conveys the theme and fits the tone of the party. You can then customize the invitation with your own special message and details. My favorite way to create my own custom invites is on Canva. I custom-created a perfect invite. PS They even have templates so you don't have to be a pro at Photoshop haha. After I create the look we are going for I like to print them on glitter card stock. It takes the invitation to another level!
When designing the invitation, it is important to include the necessary information. Be sure to include the date and time of the party, the location, the RSVP date, and any other pertinent information. Depending on the theme of the party, you can also add fun, creative details, such as a tropical background or a beach-themed font.
Finally, be sure to keep your invitations organized. You will want to keep a list of all the people who were invited, including contact information so you can follow up with them if needed. You will also want to keep track of who has accepted the invitation and who has declined. This will help you plan for the proper number of guests.
Creating invitations for your tropical birthday party is a great way to get the planning process started. With a little bit of creativity and organization, you can create the perfect invitation that will help set the tone for a memorable event.
Crafting Decorations
Adding decorations to your party can really make it stand out and create that special event you are looking for. When crafting decorations for a tropical slumber birthday party, there are a few key elements to keep in mind.
Color is a major element to consider when planning a tropical slumber birthday party. Bright, vibrant colors will create an atmosphere of fun and energy. Consider using bright colors such as pink, yellow, and green to create a bright and cheerful environment. Incorporate different shades of the same color to create a more subtle yet still festive atmosphere.
Another important element to consider when crafting decorations for a tropical slumber birthday party is texture. Consider adding items such as palms, pineapples, and other tropical fruits to your decorations to create a more tropical feel. You can also use items such as fabric, burlap, and paper to create texture and depth to your decorations.
When crafting decorations for a tropical slumber birthday party, don't forget about the party favors. Consider creating small gift bags filled with tropical-themed treats such as candy, cookies, and other goodies. You can also add small items such as sunglasses, beach towels, and other summer-themed items.
Finally, consider incorporating tropical elements into your decorations. This will help create a sense of place and give your decorations an extra special touch. Consider using items such as palm tree leaves, seashells, and other beach-themed items to create a sense of paradise. You can also add items such as strings of lights, printed paper lanterns, and other illuminating decorations to give your tropical slumber birthday party a unique and magical touch.
By taking some time to plan ahead and craft decorations for your tropical slumber birthday party, you can create a unique and memorable event that your guests will remember for years to come. With the right combination of color, texture, and tropical elements, you'll be sure to create a magical event for your guests.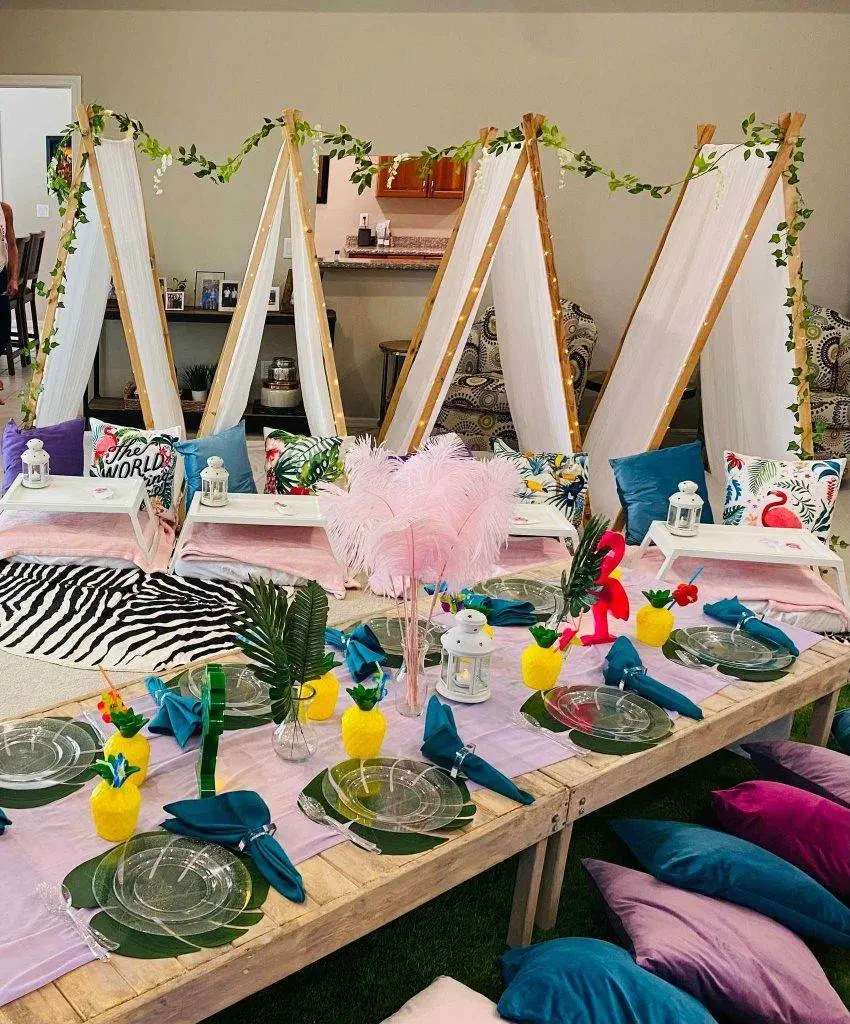 Activities and Games
When planning a tropical birthday party, the activities and games will be an important part of the celebration. A tropical party is a perfect opportunity to have some fun in the sun while playing traditional games with a beachy twist.
A great place to start is to pick a few outdoor activities that will get the guests involved. For example, setting up a water balloon toss or a relay race is a great way to keep children entertained. Other ideas include a limbo contest or a beach ball race.
If the tropical theme is more of a luau, consider setting up a pig or duck roast as a fun activity. Learn some simple hula dances, and have children put on a performance for the adults. This is a great way to keep the younger guests engaged and entertained.
For a truly unique tropical party, try setting up some water activities. This can range from a pool party for guests of all ages, to setting up an inflatable water slide and filling a kiddie pool with beach balls.
If the party is being held indoors, there are still plenty of great activities to choose from. Consider hosting a mini beach volleyball tournament, or having a limbo or hula hoop contest. Art projects such as shell necklaces and sandcastles can often be done indoors. A tropical-themed board game tournament is also a great way to keep kids busy, and can even be turned into a competition.
No matter the age of the guests, there are plenty of activities and games that can be included in a tropical birthday party. From water activities to board games, there are plenty of ways to make the event a memorable one. Have fun with it and create custom activities that are sure to make the birthday party a success!
Food and Drink
When planning a tropical slumber birthday party, food and drink choices are an important part of the celebration. You want to make sure you provide an array of snacks and drinks that reflect the tropical theme and will appeal to your guests. When deciding what food and drink to serve at your party, consider the preferences of your guests and the overall vibe of the occasion.
A popular option for a tropical birthday party is to serve finger foods and snacks that are easy to share and enjoy. Some great ideas for tropical-themed appetizers include fresh fruit kabobs, coconut shrimp, mango salsa, and pineapple pizza. For a more substantial meal, you can serve dishes such as jerk chicken, fish tacos, and pork with a pineapple glaze. Make sure you include some tasty side dishes like a tropical fruit salad, mango and jicama slaw, or tropical couscous.
Be sure to provide a variety of drinks for your guests to enjoy. Have a selection of tropical juices such as pineapple, coconut, and guava. Of course, you can't forget the cocktails! Try serving up some fruity drinks like a mango margarita or a coconut mojito. You can also provide non-alcoholic drinks like pineapple coconut punch or a tropical fruit smoothie.
For a sweet treat, whip up a pineapple upside-down cake or some coconut macaroons. Or, if you want something a little more interactive, you can have a make-your-own sundae bar where guests can choose from a variety of ice cream flavors and toppings.
When planning the food and drink for your tropical slumber birthday party, keep in mind the tastes and preferences of your guests. You want to offer a delicious selection of tropical-themed options that will make your guests feel like they are on vacation.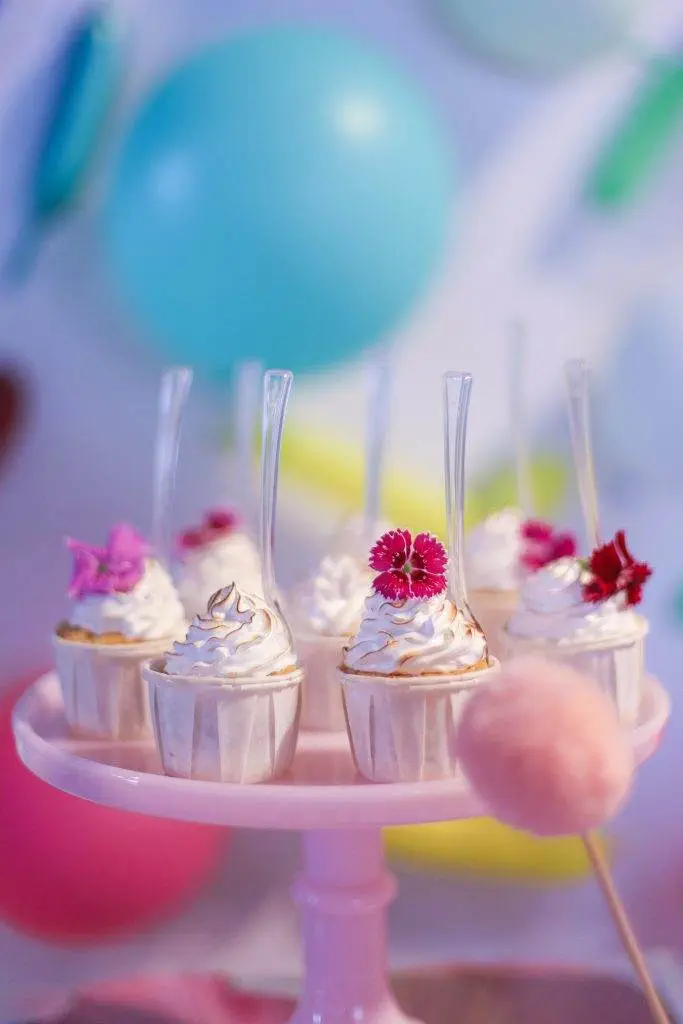 Favors and Gifts
When planning a tropical birthday party, favors and gifts are essential details to the celebration. Favors can be a great way to thank guests for attending the party, while also giving them a small piece of the party to take home. Gifts can be special tokens to give the birthday celebrant, showing them you care and want to make the day extra special.
When thinking of favors and gifts, get creative and think of items that have a tropical theme. For favors, consider items such as tropical straws, mini beach towels, or small flip-flops. These items can be found at most party supply stores, or even online. For gifts, you can find tropical-themed items such as a beach tote, a personalized beach towel, or a beach umbrella. There are also many unique and creative options you can come up with on your own.
If you are on a budget, favors and gifts don't have to be expensive. You can use items you already have such as mini potted plants, koozies, or even stickers. When it comes to gifts, consider something that will be a lasting memory such as a personalized photo frame, a keepsake box, or an extra special blanket.
No matter what you decide for favors and gifts, they will be a great addition to your tropical birthday party and will be sure to make your guests feel special. Think of something creative that will fit the tropical theme and make sure to thank your guests for coming. With the right favors and gifts, your tropical birthday party will be sure to be a hit.
Final Touches
Once the planning of the decorations, food, and activities is nearly complete, it is time to add the final touches to the tropical birthday party. These special elements are what will give the guests and the birthday child special memories of the special day.
An easy and fun way to incorporate the tropical theme is to source decorations that match the theme. A plethora of options are available in bright colors and fun shapes. These could include balloons, centerpieces, and bunting. Adding a few pieces of faux foliage to the decorations will help to enhance the tropical feel.
Similarly, the food served can be arranged and presented to fit the theme. Add a few tropical elements such as colorful fruits and vegetables, like pineapple and papaya, to the menu. Not only will these items look great, but they will also provide a nutritious option for the guests.
Finally, activities are a key aspect of celebrating the special day. Guests of any age can be entertained with a range of tropical-themed activities. These could include making flower crowns, creating tropical-themed paper dolls, or playing coconut bowling. Or, for older guests, board games with a tropical twist, such as a tropical version of Scrabble, can be a great way to bring the theme to life.
No matter what final touches are chosen for the tropical birthday party, it is sure to be a memorable occasion and a fun way to celebrate the special day. With a little effort, planning a tropical slumber party can be an enjoyable experience for all.