As summer is quickly approaching, it's time to start planning your ultimate slumber party. Whether you're throwing a birthday for your little one, celebrating an upcoming holiday, or just having fun with the family, there is no better way to jump into summer than with a magical teepee mermaid slumber party! This is the perfect opportunity for every kid to let their mermaid and pirate dreams come true. From designing decorative tailfin-shaped skirts to decorating under-the-sea-inspired teepees, your kids will have the time of their lives. To make your party stand out from the rest, all you have to do is provide imagination and creativity! But a slumber party without a few special touches just won't do. To bring your magical event to life, add some custom accessories like glittery garlands, photo booth props, and other fun decorations. A teepee mermaid slumber party also calls for a spectacular cake – just imagine the look on your kid's face when they see a multi-tier cake with a mermaid on top! The possibilities are endless – just stick to the theme and let your imagination soar. So what are you waiting for? Grab your mermaid tails and let's jump into summer with the perfect teepee mermaid slumber party! With a few of our tips and tricks, you can turn your backyard into a wonderland of bubbles, flowing fabrics, and colorful decorations. So make sure to read our guide and get creative when planning the ultimate slumber party for your little ones.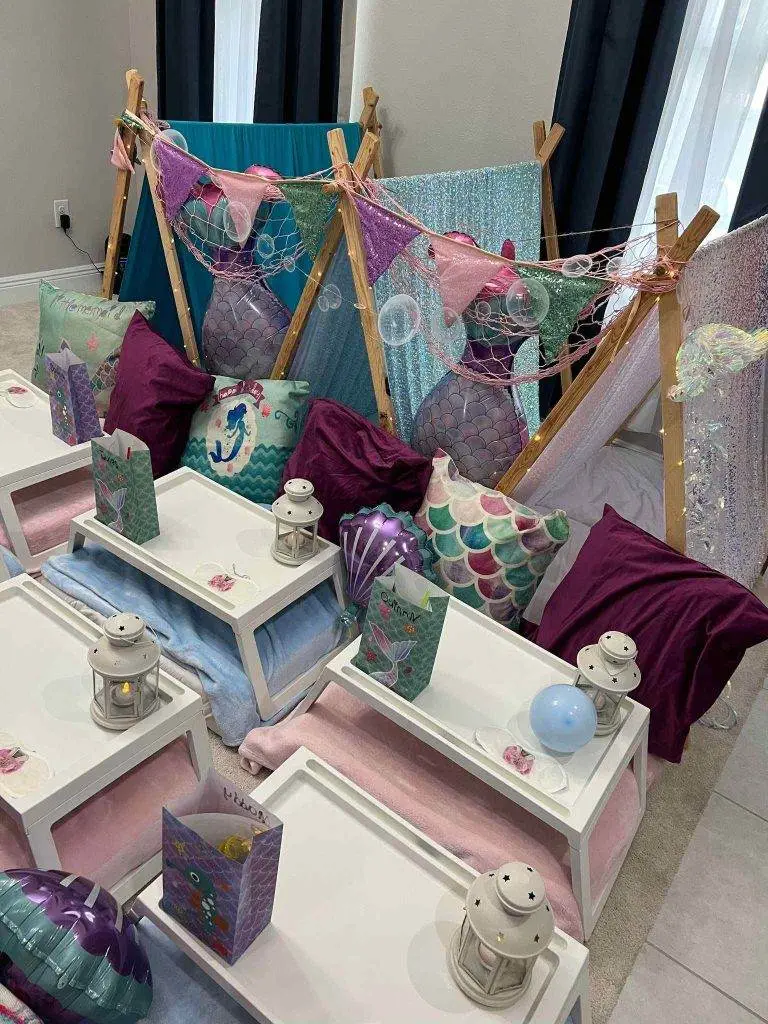 Gather Your Supplies
Before you can get started on the fun stuff, you'll need to gather some supplies. Start by Booking with Slumberr. We bring teepees to you whatever theme. Mermaid or pirate, we have you covered! With each one of our teepee sets includes a memory foam mattress( No Air Mattress Here), sheets, blankets, a tray, a lantern, a garland, fairy lights, and decorative items to make your theme pop! Make sure you have enough for the number of kids attending the party. We transform your teepees into a magical under-the-sea paradise. To complete the mermaid theme, stock up on some fabric that looks like scales, sparkles, and other mermaid-inspired designs. You can use these materials to make skirts, sashes, and other fun accessories. Don't forget to get some pirate-style accessories, like eye patches and hats, for the kids to wear. And last but not least, make sure to pick up some fun props and decorations for the photo booth! We have lots of extra goodies to choose from. Backdrops, gift bags, and more! Are you in Winter Haven, Lakland Fl or surrounding areas? Book with us and check out why you should! https://www.slumberrparty.com/party-with-slumber-winter-haven-florida/
Make a Mermaid or Pirate Costume
Now that you have all the necessary supplies, it's time to make a mermaid or pirate costume for each of the kids. Start by measuring out the fabric and cutting it into the desired shape. Then sew the pieces together to create a skirt or a sash. You can also use fabric glue for a quicker alternative. Once the skirts or sashes are ready, you can add some sparkles or other decorations to give them a mermaid-like effect. For the pirate costumes, you can start by finding some hats and eye patches for each kid. It's also fun to make a few swords out of cardboard for your little pirates. You can also create some fabric scarves for your pirate crew. Just measure out the fabric and paint on sword shapes or pirate symbols. Once dry, tie the scarves around the kids' necks. And don't forget to add a few temporary tattoos for the final touch.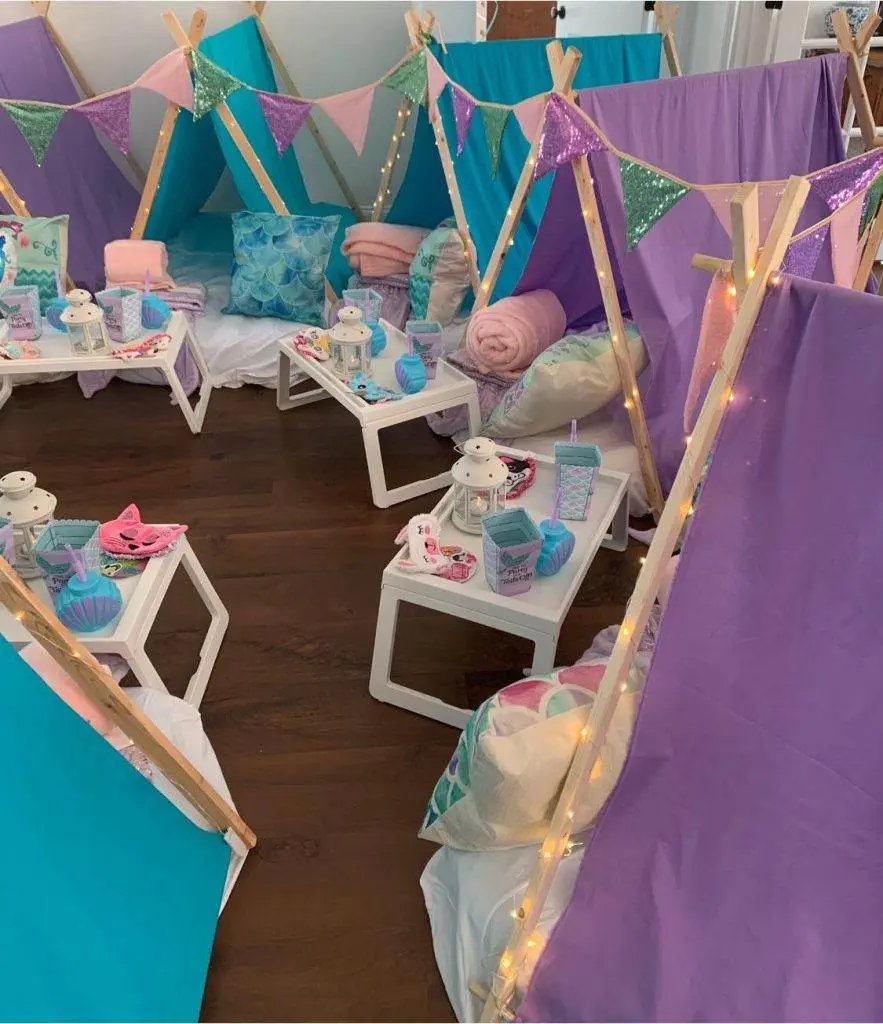 Create a Beachy Ambiance
Now that all the costumes are ready, it's time to create a beachy ambiance for the party. Start by hanging some white organza and sheer fabrics around the teepees. This will give the teepees a light and dreamy feel. You can also hang some sparkly fabric or ribbons from the ceiling to make the teepees look like bubbles. Or you can cover the walls with fabric and add a few stars and shells for extra decoration. For a real beach feel, add some sand to the floor and make some shells and starfish out of paper. Add some string lights to light up the area and some fairy lights to give your teepee mermaid slumber party a magical atmosphere. Finally, don't forget to light some scented candles for an extra touch of beachy vibes.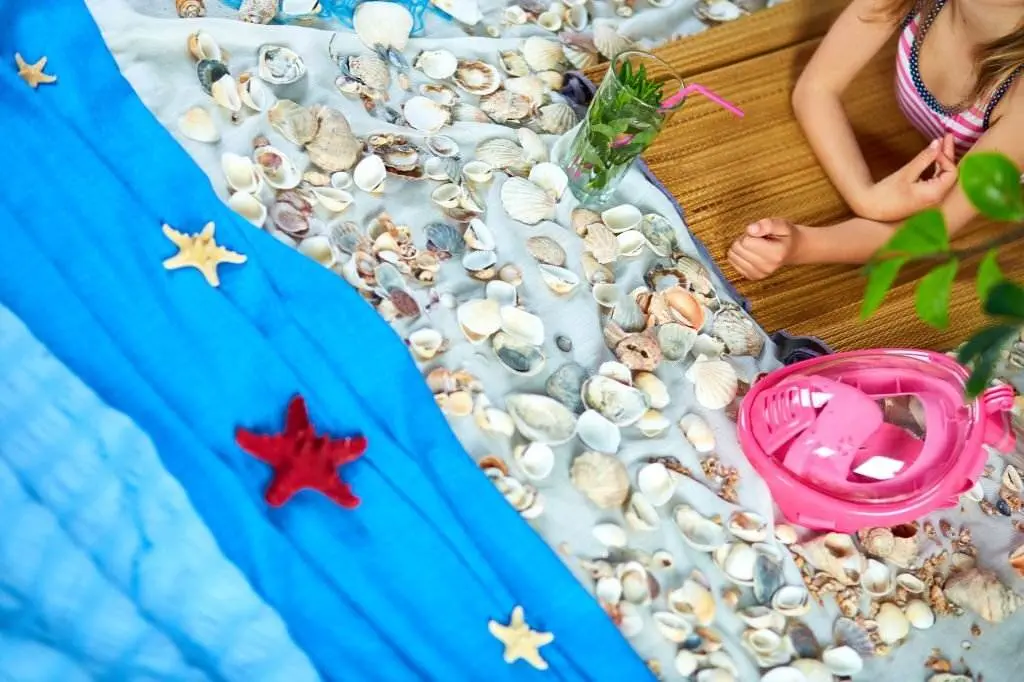 Prepare a Mouth-Watering Menu
When it comes to hosting a magical slumber party, you can never go wrong with a delicious meal. To make sure your guests don't miss out on all the fun, start by preparing the perfect menu. Whether you're serving a light brunch or a mid-afternoon snack, make sure to serve something your kids will love. Whip up some tasty treats like fish-shaped cookies and cupcakes, or use your favorite recipe to craft a unique under-the-sea-themed cake. And don't forget to add some healthy snacks like vegetable sticks and fruit to balance it out. Don't forget the drinks too! Homemade lemonade is always a hit and will help keep your little ones hydrated. My favorite is to make some fresh and add some frozen dragon fruit. Turns the lemonade pink, taste amazing, and makes it look fancy for guest! If you want something more special, try serving frozen bubble tea in a mason jar. You can also jazz up regular water bottles by adding some fun stickers and decorating them with sea shells. The possibilities are endless! Whatever you serve, make sure your guests enjoy it and never go thirsty.
Sweeten the Evening with a Crafty Treat
At any slumber party, tasty treats are a must. To make your evening extra sweet, try making some custom-made treats like rainbow-colored popsicles or unicorn cupcakes. To give your guests the full mermaid experience, craft some fish-shaped cookies or under-the-sea-themed cupcakes with your favorite icing. Whether you're baking from scratch or using a pre-made mix, make sure to have plenty of treats to keep your kids busy throughout the night. Slumberr also has a cotton candy machine rental & popcorn rental in case you need an easy snack! You can also add a few fun activities like a cupcake decorating station. Set up an area with different colors of icing, sprinkles, and fondant. Let your kids decorate the cupcakes with their favorite colors and designs. They'll love creating unique treats and you'll love having some fun sweetness to share with your guests.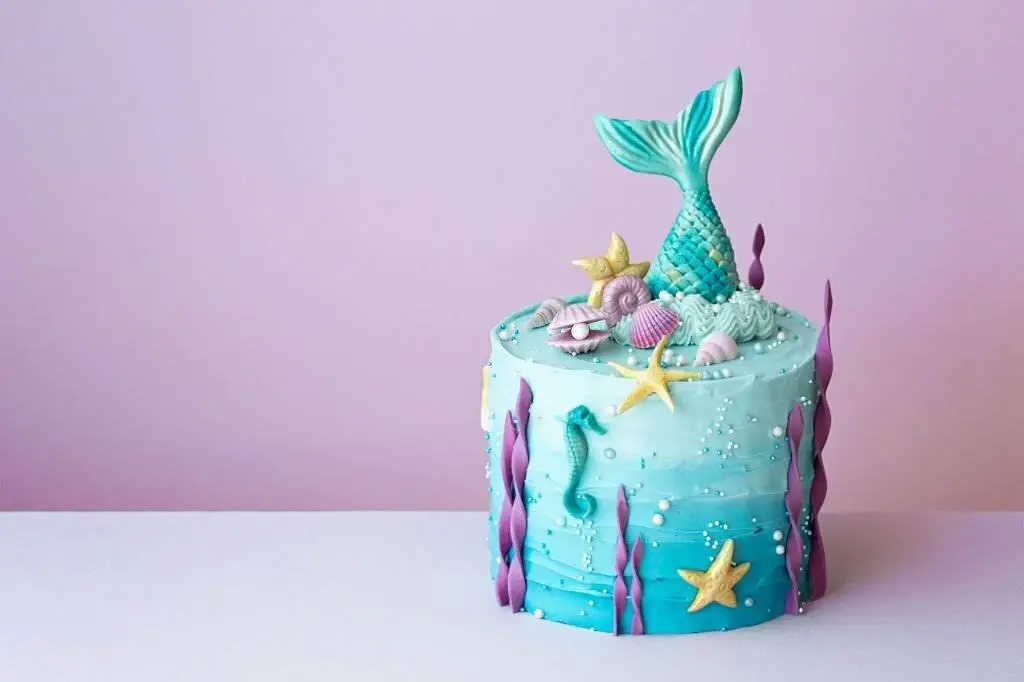 Transform Your Space into a Teepee Slumber Party
No slumber party is complete without a cozy space to sleep. To make your evening extra special, transform your space into a teepee slumber party. Hang some colorful fabric from the ceiling and create an inviting teepee for your guests. You can also add some grassy mats and a few fuzzy pillows for extra comfort. For a mermaid-inspired slumber party, you can hang sea shells and starfish from the ceiling or add some glittery string lights for a magical touch. For an extra-special touch, get your kids involved in the decorating process. Encourage them to make their own decorations like jellyfish-shaped streamers or shell-shaped garlands. They'll love creating something special and you'll be amazed at the results. Just make sure to provide a few tools like glue, scissors, and markers so they can get creative.
Put on a Magical Under the Sea Show
To make your evening extra special, put on a magical under-the-sea show. With a few simple props and accessories, you and your guests can transform into mermaids and pirates in no time. Pick up some colorful fabric and create mermaid tails or let your guests design their own with glitter, beads, and other fun decorations. To make sure everyone's comfortable, provide a few pool floats to keep them afloat. You can also set up a few beach balls and inflatable sharks to keep everyone entertained. For an extra-special touch, put on a show for your guests. If you're feeling extra creative, you can put on a mermaid play or a pirate show. You can also have a few musical performances or dance moves to keep everyone entertained. If you have a karaoke machine, you can even sing your favorite under-the-sea songs. Whatever you decide, make sure to keep your guests entertained throughout the night.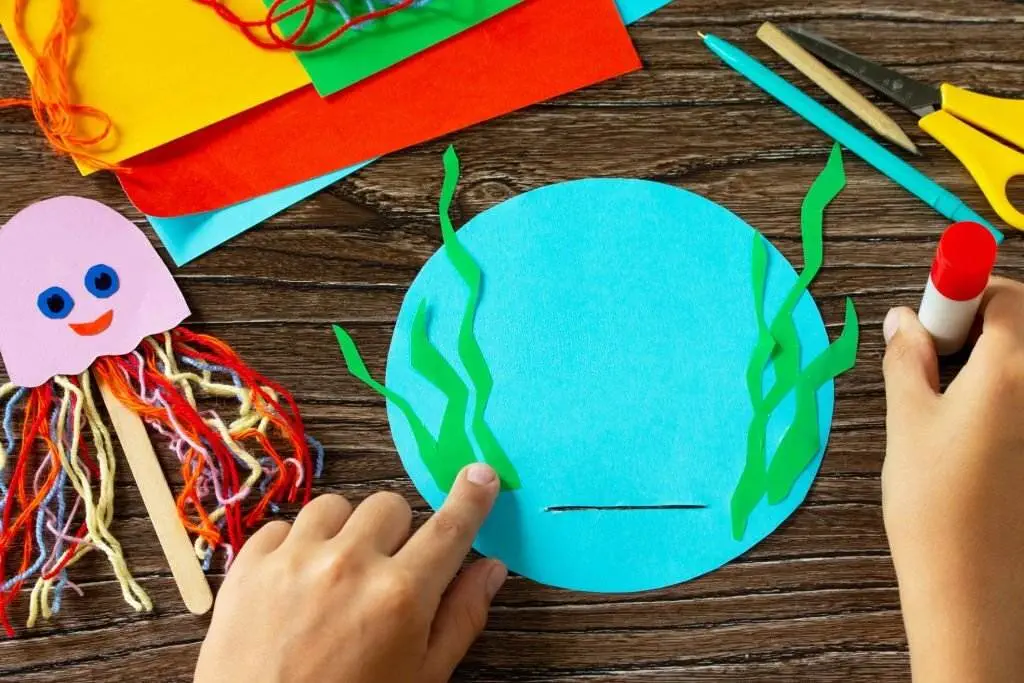 Enjoy the Morning After
The morning after is the perfect time to enjoy the remains of your slumber party. Whether you're sharing stories from the night before or just enjoying a few pastries, make sure to create a cozy atmosphere for your guests. Enjoy a few board games or challenge each other to a pillow fight. You can also spend some time crafting mermaid tails with your remaining fabric and decorations. If you're feeling extra ambitious, you can even take a dip in the pool. Whether you're taking a few laps or just floating around, make sure to provide enough safety equipment for everyone. It's also a great opportunity to do some beach-themed activities like sandcastle building or beach volleyball. Whatever you do, make sure to enjoy the morning after and savor the memories of your magical teepee mermaid slumber party.