Central Florida, a gem sprinkled with golden beaches, verdant parks, and vibrant urban zones, stands out as the ultimate locale for outdoor festivities. With cities like Orlando, Cocoa Beach, and Tampa taking the lead, this region isn't just a magnet for tourists but also a treasure trove for hosts. Here's a detailed exploration into why Central Florida has grown to be a preferred choice for memorable outdoor gatherings.
1. Diverse Landscapes:
Central Florida effortlessly blends its natural beauty with urban sophistication. The shores of Cocoa Beach offer the ideal backdrop for teepee setups by companies like Slumberr, where guests can lounge by the gentle ocean waves. Orlando's serene parks provide a tranquil setting for luxury picnics, with nature serenading in the background. Meanwhile, Tampa's bustling ambiance is perfect for outdoor movie nights, capturing the city's energetic spirit.
2. Year-round Sunshine:
Known affectionately as the 'Sunshine State', Florida genuinely embodies this title. Central Florida's consistent tropical climate ensures that outdoor events, be it Bell Tent Rentals by Slumberr or a simple family gathering, have a minimal risk of weather-related disruptions
3. Cultural Fusion:
The area's rich cultural mosaic lends itself beautifully to themed parties. Reflecting the diverse traditions of Central Florida, hosts can opt for Build-A-Bear Parties for children or go exotic with Outdoor Glamping experiences. The possibilities are as varied as the region's population.
4. Proximity to Attractions:
Imagine concluding a Slime Party in Orlando with a visit to a nearby theme park or wrapping up a teepee event in Tampa with a tour of the historic Ybor City. The attractions in Central Florida can effortlessly complement any gathering, turning it into an extended celebration.
5. Endless Entertainment Options:
Live music in Tampa, water sports in Cocoa Beach, and theatrical performances in Orlando – Central Florida is bursting at its seams with entertainment. Tailor-made for Slumberr's Outdoor Movies service, these locals ensure that the party doesn't stop when the sun goes down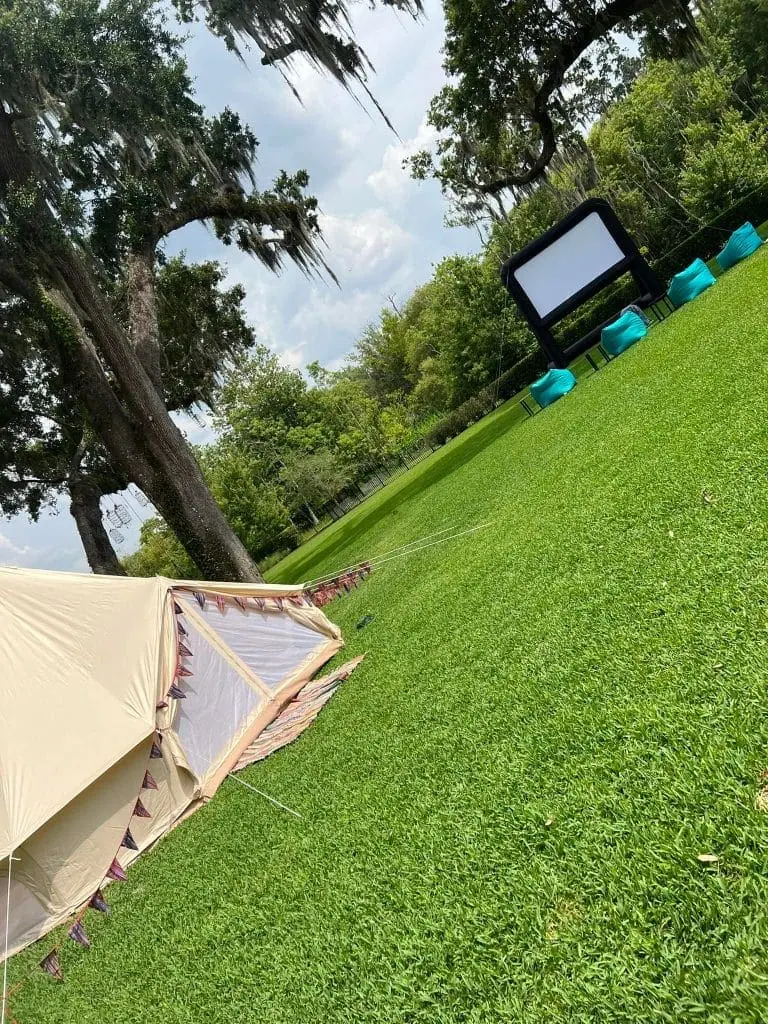 6. Expert Party Services:
Central Florida's appeal is elevated by professional party services like Slumberr. Offering a diverse range of packages from Teepee Sets, Outdoor Movies, Slime Parties to Luxury Picnics and more, they transform any venue into a magical realm. Their expertise ensures that the essence of Central Florida is captured and presented beautifully, making every event special.
7. Stress-Free Celebrations:
With Slumberr taking the helm, hosts can genuinely unwind and enjoy the festivities. Whether it's an elaborate Bell Tent Rental or a cozy Build-A-Bear Party, Slumberr's comprehensive services ensure every detail is handled with finesse, making celebrations truly memorable
In essence, the unparalleled charm of Central Florida, magnified by the exceptional services of companies like Slumberr, establishes the region as a premier choice for outdoor events. Whether you're a local or just visiting, seize the opportunity to craft memories that will be cherished for a lifetime.
Why Choose Us?
When planning a memorable event or birthday party, selecting the right service provider can make all the difference. This is where Slumberr shines. With a unique blend of creativity and professionalism, Slumberr promises more than just a party—it delivers an unforgettable experience. Their expertise in organizing bespoke events, from dreamy teepee parties to luxury picnics, ensures that every detail aligns with your vision. Slumberr isn't just about aesthetics; its commitment to being licensed and insured highlights a dedication to safety and quality. What truly sets them apart is their versatility. Whether it's an Outdoor Glamping adventure, a fun-filled Slime Party, or a cozy Build-A-Bear gathering, Slumberr tailors each event to your specifications. And the best part? They bring this magic right to your doorstep, serving a wide expanse of Central Florida, from Cocoa Beach to Tampa. In a world where stress-free party planning seems elusive, Slumberr turns it into reality. So, for an event that resonates with joy, charm, and professionalism, make Slumberr your first choice. I hope this encapsulates the essence of why Slumberr would be an ideal choice for any event or birthday party!