As the summer sunsets and a night of fun begin, there is nothing more exciting than gathering your closest friends for a slumber party. Here are some crafts to get your slumber party going. Whether you want to create some classic memories, or branch out and try something new, the possibilities for an awesome evening can seem endless. But don't worry! We've got you covered. With seven simple crafts and activities that are perfect for a slumber party, you can spend less time wondering what to do, and more time actually doing it. From fun decorations to tasty snacks, crafting can be the best way to kick off an unforgettable party. So, if your goal is to make your next slumber party one to remember, read on to discover seven crafts that will get the party started!
Setting the Scene with DIY Decorations
Make the Most of Your Slumber Party with Crafts and DIY Decorations
When it comes to throwing the perfect sleepover, setting the mood is key. While snacks and movies are a must, adding in some crafts and DIY decorations can make your slumber party even more special. Here are 7 craft ideas to get your party going. From tissue paper garlands to pillowcase stamping, these crafts will have your guests feeling cozy and excited for the night ahead. Get your craft supplies ready, it's time to set the scene for your slumber party!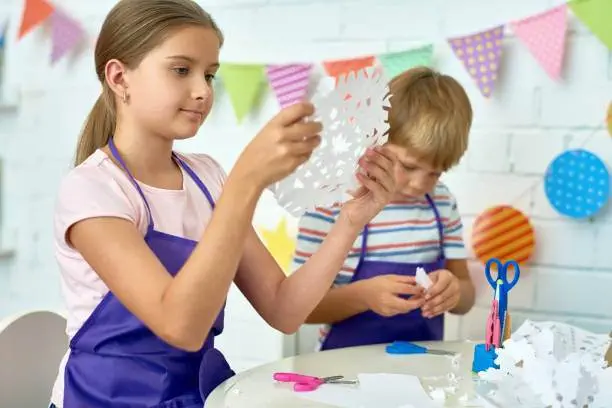 Crafting a Pillow Fort
Pillow Forts: Fortifying Your Slumber Party
If you're looking for a fun, easy way to get your slumber party started, why not try crafting a pillow fort? Not only are pillow forts a fun activity for all ages, but they can also provide the perfect cozy atmosphere for everyone to chat, relax and get the sleepover going. With just a few simple items, you can craft a pillow fort masterpiece that will make all your friends jealous!
Start by gathering supplies such as pillows, blankets, chairs, and cushions. Arrange the furniture in a way that works best for you: maybe a castle-style fort with tall walls, or an enclosed teepee shape. If you want to take it up a notch, add string lights, throw blankets, and tassels for extra decoration. When you've finished building your fort, make sure everyone is comfortable before settling in to play some games or watch a movie. Whatever you decide to do, pillow forts are a great way to create an inviting and warm sleepover atmosphere. So gather your supplies and get ready to craft your own unique fort!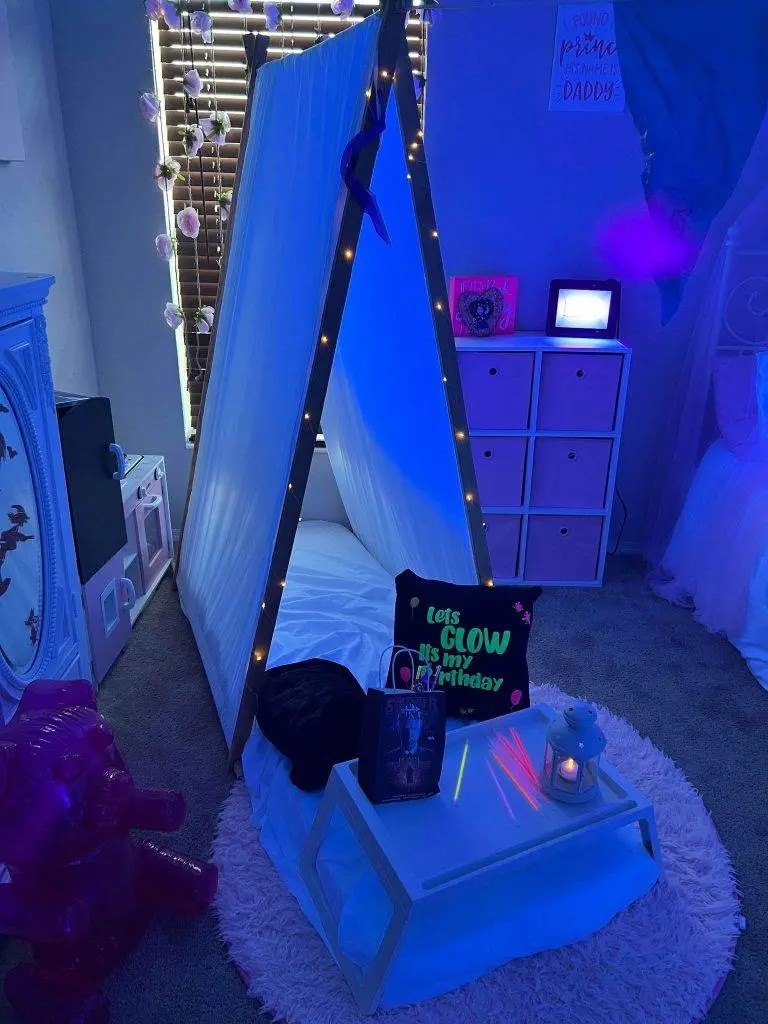 Making Custom PJs
Making Custom PJs – Get Creative With Your Slumber Party Crafts
Are you looking for some fun and creative crafts to bring your slumber party to the next level? Why not try making custom pajamas for everyone in attendance? It's a great way to show off your creative side and make a lasting memory for your friends. Plus, it's an easy and inexpensive craft that everyone can get involved in.
Gather up some plain white or solid-colored pajamas and let the creativity flow. You can use fabric paint, iron-on patches, or even bedazzle to make one-of-a-kind designs. You can also add silly jokes, and nicknames, or create matching pajama sets for the whole group. When you're finished, you can all wear them together at your slumber party and take some Instagram-worthy photographs to remember the night by.
Making custom pajamas is a simple, yet fun slumber party craft that is sure to make for a memorable night! So why not give it a try? Let your imagination fly and make something amazing.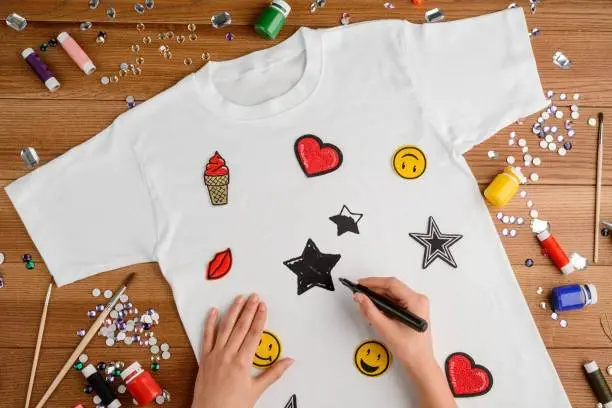 Creating a Pinata
Crafting a Pinata to Get the Slumber Party Going
Creating a pinata can be an incredibly fun and rewarding way to get the festivities of a slumber party off to a great start. Pinatas are a great activity no matter the age – they give everyone an interactive way to have some fun while also giving them something to look forward to. With the right materials and a bit of imagination, you can create your own unique pinata that will become the talking point of your party. In addition, it can be a great way to channel your creative energy and give the guests something to work together on as they celebrate. Read on to find out how to make your very own pinata for your slumber party!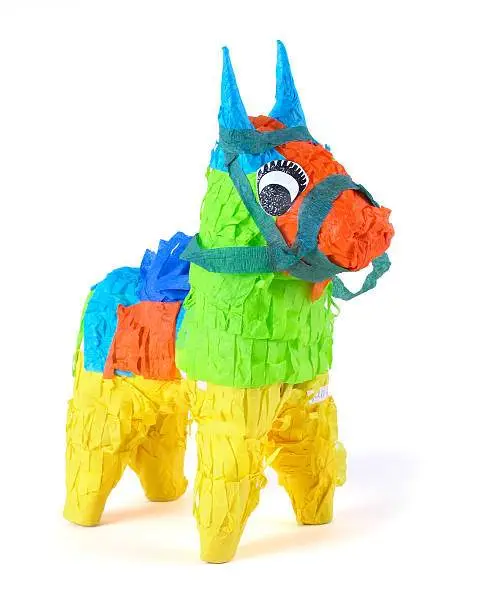 Personalizing Pillows
Lighten up your slumber party with personalized pillows!
Bring some extra personality to your slumber party with personalized pillows! Your guests will enjoy the fun and creative decorations made just for them. With a few simple supplies, you can make pillows that everyone at the party will be proud of. Whether you choose to create monogrammed pillows, emoji pillows, or even glittery pillows, your slumber party is sure to be a hit. Get started and get creative with these 7 crafty pillow ideas for your next slumber party.
Designing a Photo Booth Backdrop
Bring your slumber party to life with a stylish backdrop for your photos!
When planning a slumber party, the right decorations and activities can help create a night that your guests will never forget. One classic activity that everyone loves is setting up a photo booth to take fun pictures! The best part is, you can make your own backdrop to customize it to the style of your party. Here are 7 simple crafts you can use to design the perfect backdrop for your photo booth.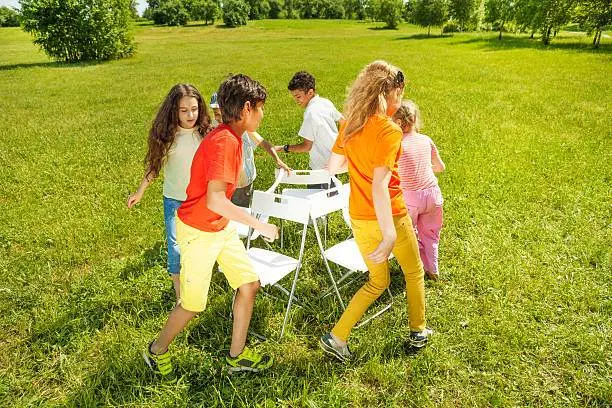 Having Fun with Food Crafts
What's a slumber party without some fun food and crafts? You and your friends can get creative with these seven ideas to really get the party going. From making chocolate-dipped pretzels to creating your own personalized pizzas, these crafts are sure to delight and entertain your guests. So grab your supplies, turn on some tunes, and get ready to have a blast!